This article will show you, how to disable UAC notifications in Windows 8. User Account Control is a technology that handles and improves various security issues of your computer. If you install software and applications regularly, chances are high that malicious software are being installed in your computer without your notice. A UAC notification gives you alerts when the computer tries to install any software. This level of security is always recommended as it prevents your machine from getting corrupted by viruses. Not only does it alert you while installing any file but also notifies you even if you make any change in the Windows Settings.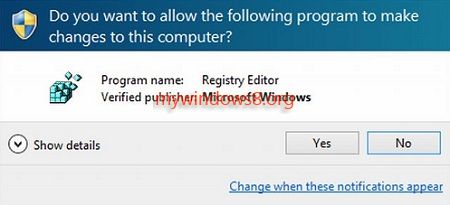 UAC helps standard users as well as administrators to perform certain tasks without undergoing any switching procedure. In Windows Operating System, there is a facility to use the PC by many users. Among the users one user is the Administrator and the rest are non-administrators or Standard users. The classification of users is solely based on the level of access allowed to a specific user. Administrators have full access to the pros and cons of the core of the operation System, has the rights to alter settings like that of Firewalls, drivers, security policies and many more.
While the user is logged in as Administrator, it is more prone to virus attacks by installations of malwares silently and hence comes the utility to UAC which confirms if any trial to make change in Settings is detected. For your information, the users are always granted permissions on the basis of a technology called access tokens. An administrator is granted full access token when it tends to perform any administrative tasks and for standard user the access token is standard type.
While you'll perform the steps you'll come across the UAC notifications slider, which you can move up and down depending upon the level of security you want. The highest level provides highest level of security. While you come down, some features or others are excluded one by one, and at the bottom level, your machine is deprived of any security notifications. Although the user is given full flexibility to choose the tyoe of settings, but it is highly recommended not to turn of UAC notifications for safety and security.
Steps to disable UAC Notifications in Windows 8
Process 1
1. Press Windows Key + C to go to Windows charms bar, then type Control panel in search bar and select it.

2. In Control panel, go to System and Security.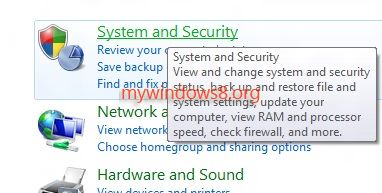 3. Under Action Center select Change user Account Control Settings link.

4. Move the slider up or down according to your requirements whether you want to recieve notifications or not or an intermediate level.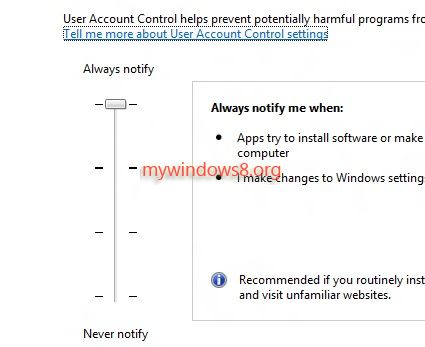 Process 2
1. Another Alternate path is to open Control panel Home and then Go to User Accounts and family Safety.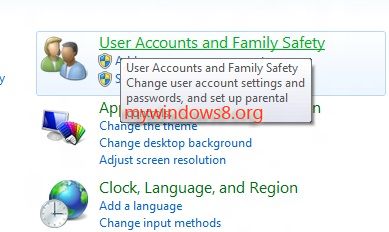 2. Now click on User Accounts.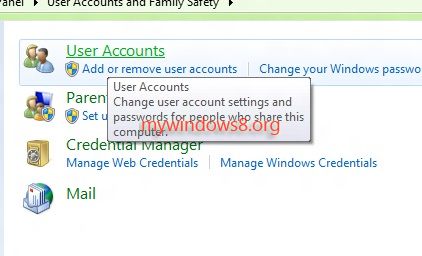 3. Select Change User Account Control Settings and perform same as shown before.
Process 3
1. Press Windows Key + C to open Windows 8 Charms Bar.
2. In the Search bar type UserAccountControlSettings.exe.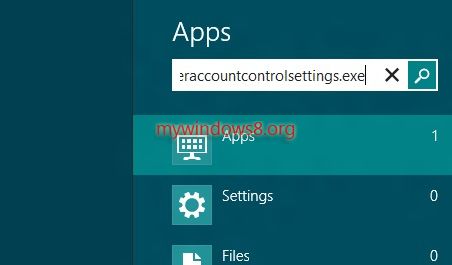 3. Select the result to open UAC Settings in Control panel directly.
4. Now click "Yes" to confirm UAC notification and you can move the slider up and down to choose your desired level.