Los Angeles LIVE's 7,100-seat concert and special events venue has been officially been renamed Microsoft Theater.The Nokia Theater, also known as LA Live, was one of the most popular theater across the globe and it's famous for hosting great shows like Emmy, People's Choice, ESPY, and MTV Movie awards (among others) each year. Lee Zeidmam, President of Microsoft Theater announced that the Nokia Theater will be henceforth known as Microsoft Theater.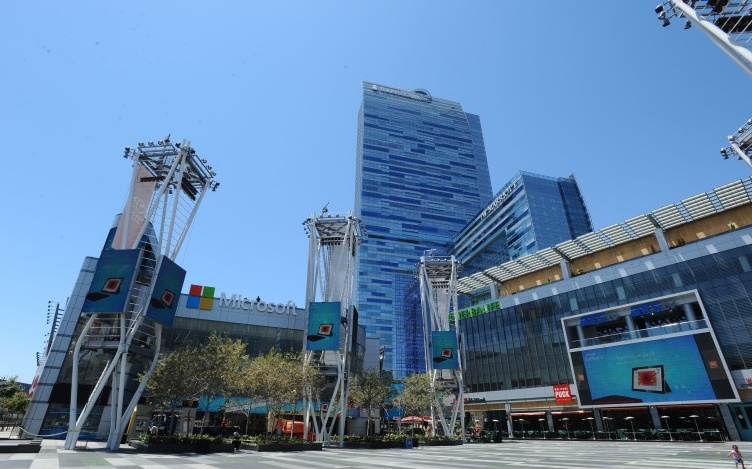 The huge Theater covers 40000 sq ft area of outdoor plaza. There has been a comprehensive partnership between Microsoft, AEG and Live L.A which has led to the replenishment and rebranding of the Theater as Microsoft Theater. We all know that Microsoft has acquired Nokia' mobile handset markets and replaced the Nokia brand with Microsoft. Even though thus rebranding is not an outcome of that acquisition but it is another deal where Microsoft took over Nokia.
Lee Zeidmam said, "We are proud to partner with one of the world's greatest and most recognizable brands," said Lee Zeidman, President, Microsoft Theater, L.A. LIVE and STAPLES Center. "As technology continues to transform the live entertainment business, I couldn't think of a better partner to help us create an even better experience for our fans…both on the stage and throughout Microsoft Theater."
Microsoft said that apart from Microsoft Theater, they have invested on other domains in Los Angeles which include Silicon Beach as well as four new retail stores. "Our partnership with Microsoft will make one of the country's best venues to experience music and other live entertainment even better," said Stew Heathcote, Sr. Vice President, AEG Global Partnerships. "Building on their already substantial investment in Los Angeles, Microsoft's financial and philanthropic commitment, along with the ability to leverage their technology and expertise will make their investment a win for the City, the region and our fans."
Chek out the video of the transformation from Nokia Theater to Microsoft Theater.
Source:Microsoft