Windows Phones bring a new game Wordament Snap Attack that comes with support from Xbox Live. Wordament Snap Attack is compatible with Windows Phones and also with Windows 8.1 tablets like Surface 2 or personal computers. In the next few lines you will get to learn about this word game.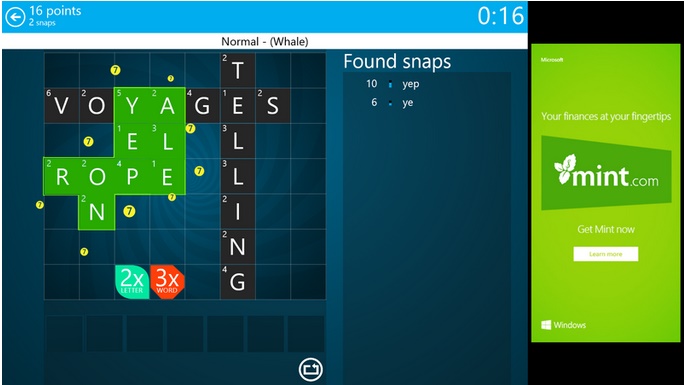 In this game you will get 2 minutes 30 seconds to make make as many snaps as you can within the stipulated time. Snaps are combination of words and the game becomes very interesting as it gives you another opportunity to go back to your childhood and boost your vocabulary. You will be awarded scores on basis of the snsps you built and the scores are movable colored tiles. Track your scores compared to your friends through a leadership board. You have to sign in to using your Microsoft Account or Facebook login ID or Xbox gamer tag. If you connect with your Xbox console you can earn achievements.
Compete with friends around the globe and across devices!
Sign in with your Microsoft Account or Facebook to track your progress
Earn achievements on Xbox. This game is available in the Windows Store absolutely free but it supports ads. Versions for each of iOS ad Android platform are on its way. Till then the Windows Phone users who have a great enthusiasm for solving puzzles should play it.