Windows 9 video leaked online and the video has gone viral in no time. Several images of Windows 9 codenamed as Windows Threshold has already been leaked which indicated some major changes in the UI. But this video shows a wide variety of changes and it seems that the new version will bring some major tweaks in its User interface.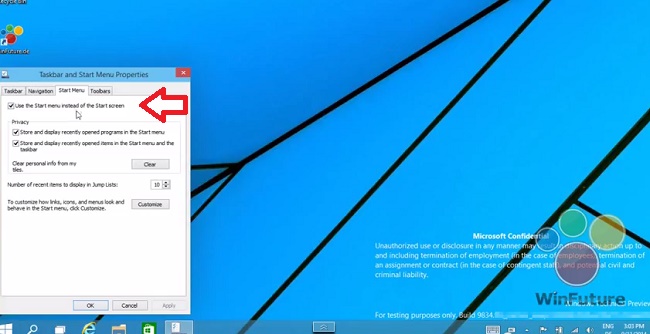 Watching the video the first thing that I liked is that Windows 9 is providing ample scope of customization and one of them is enabling and disabling Start Screen. This version will bring back the Start Button. This will surely ease a great number of users who had been struggling to adapt themselves with Windows 8 Start screen. So, the big deal is that you can use it or not use it. It;s completely your choice. Even if you disable Start screen navigation through the Start Button, there will be still a scope to view the Start screen besides the Start Button list. Perhaps Microsoft wants to make every user accustomed with the Start screen. When the Start button is clicked and the program list just like that of Windows 7 pops up. The list contains list of recently opened apps, Windows apps, programs, calculators and others along with an newly introduced extended portion. This extended portion is actually a miniature version of the Start screen. You can pin app apps from the Start menu to the Start screen. Resize, move the apps, unpin the Apps from start screen and do everything that you did in Windows 8 and 8.1.
The users who actually loved the All App screen concept, can resume the settings through taskbar. All you will need to do is to right click on taskbar, go to Properties and then a new tab Start Menu will be introduced. You can change the switching options over there.
Check out the video:
Source and Image: WinFuture Channel, YouTube