There have been rumors about the presence of Cortana in the latest Windows 9 operating system. But well, we have not been able to prove its addition into the new operating system by Microsoft and all these rumors were based on speculations throughout the internet. But through the recent leaks of Windows 9 screenshots the presence of Cortana spotted in Windows 9 build 9834.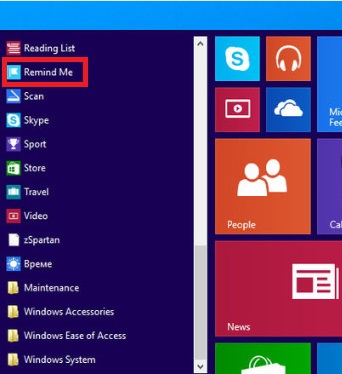 With the comeback of the Start menu in Threshold, an entry with the name 'Remind Me' can be put as an evidence for the integration of Cortana into the operating system. 'Remind Me' is actually a part of Cortana's notebook which can be found in Windows Phone 8.1 update. The 'Remind Me' entry in the Start menu might be used to edit or set reminders for meetings or appointments or other events going by the assumptions.
Cortana was first added as a part of Windows Phone 8.1 update going by the likes of Siri in iPhone. From then onwards it was preparing its digital assistant for integration with Windows 9 when it will release in 2015. Microsoft will be continuously working on improving Cortana in all the consecutive builds as it can help the company make a huge investment.
Earlier Cortana was tested as an individual Microsoft app and all the internal builds were being performed before it could be integrated into the operating system in build 9834. Many builds will be performed henceforth, and in all of them certain features will be added and functionality may change both from the UI perspective and application.