If you are using Windows XP, Vista or Windows 7 and don't want to upgrade your system to Windows 8, but eager to experience the graphical magic of Windows 8, well there is a good news for you. Hamed Danger developed Windows 8 Transformation Pack 6.0 which will give you the essence of Windows 8 in your XP, Vista or Windows 7 system.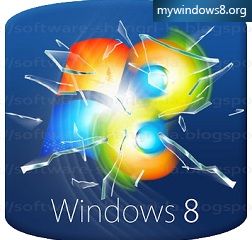 Actually Windows 8 Transformation Pack 6.0 combined the features of Windows 7 and Windows 8 and provides a unique visual experience for the users. Though you can Enable Aero in Windows 8 but Aero has been dropped officially from Windows 8. You can experience Aero's Auto-Colorization and Windows 8 Metro UI at the same time by using Windows 8 Transformation Pack 6.0 in your Windows 7, Vista or XP PC.
Requirements:
You will need to have .NET Framework 4.5 to enable Windows 8 visual features like User Tile, Metro UI Desktop etc.
New features of Windows 8 Transformation Pack 6.0
1. New Start orb replaced the previous one – Where Windows 8 dropped the concept of start button Transformation Pack includes a new start orb which looks better.
2. Updated Transparent glass Task-bar – Which is not officially present in Windows 8.
3. Aero's Auto colorization feature, Configured Aero frame UI, Metro Desktop UI.
4. Brand new Windows 8 logo, logon screen, start screen and Windows 8 RTM desktop backgrounds.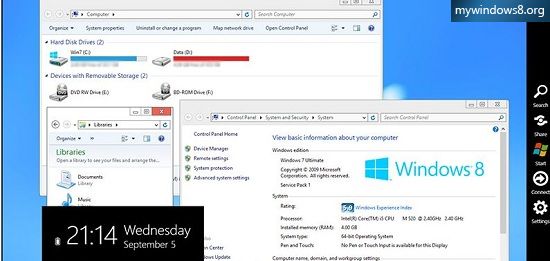 5. Windows 8 like "betta" fish boot screen.
6. More Custom metro visual style options.
7. Addition of new Metro navigation buttons.
8. Addition of new Taskbar user picture tile.
9. Metro minimize, maximize and close caption buttons.
10. Updated Windows 8 Explorer toolbar layout configuration.
11. New Network and other system tray icons.
12. New shell styles.
13. Refined and modified Segoe fonts family installation code for better compatibility.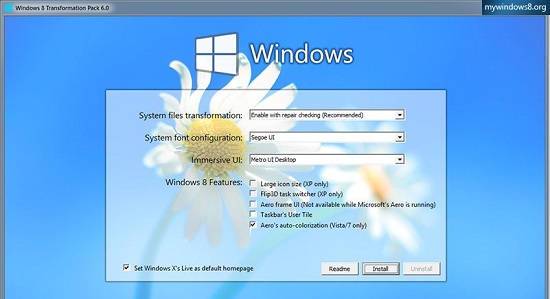 14. New Boot Screen and Shutdown/Logoff/Theme dialogs for Windows XP.
15. Support for both 32 bit and 64 bit Operating Systems.
16. Two new additional themes, Earth and Flowers along with windows's default theme.
17. System resource improvements from Windows 8 RTM resources.
Where to download Windows 8 transformation Pack 6.0?
You can download Windows 8 Transformation Pack 6.0 from Here.