Windows 10 brought back the iconic Start Menu which was removed from Windows 8. The removal resulted in degrading number of users for Windows. Users were used to the flexibility and usability of the Start Button and hence they found it difficult to hover between a Start screen and the desktop. on top of that came the Charms bar. the Windows 10 technical preview came as a savior to this menace. Windows technical preview versions brought back the Start menu combined with the Live tiles. So it means on tapping the Start button, you will get access to all the Live Tiles beside the conventional Start Menu options.
But if can always happen that you are in love with the Start screen and you want to get it back, then you have to follow the steps below.
Steps to use Start screen instead of Start menu in Windows 10
1. Right click on the taskbar and go to Properties.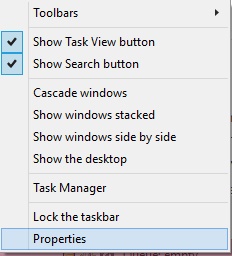 2. Now go to Start Menu tab. Uncheck the option "Use the Start menu instead of the Start Screen".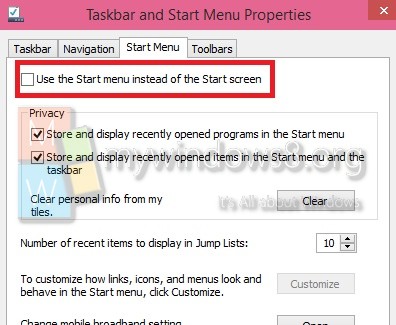 3. Now as you hit Apply, you will get a warning to save your work as the user account will sign out. tap Sign out and change settings.