The purpose of a Magnifier is to zoom in small objects to be enlarged for a better visibility. Same as a lens magnifier, the Magnifier of Windows 8.1 enlarges whatever appears on screen. A user can increase or decrease the magnification according to his/her ease of view. Moreover, different view modes are supported by Magnifier. Once you turn on the magnifier, several more options will be available to you which are otherwise greyed out. These are invert colors and Magnify Automatically. Inversion of colors will be helpful with persons with color sensing disorder. Magnifier provides ample options for personalizing your computer. User can set how much the view changes when zooming in or out the screen. A slider with an arrow is there to increase or decrease.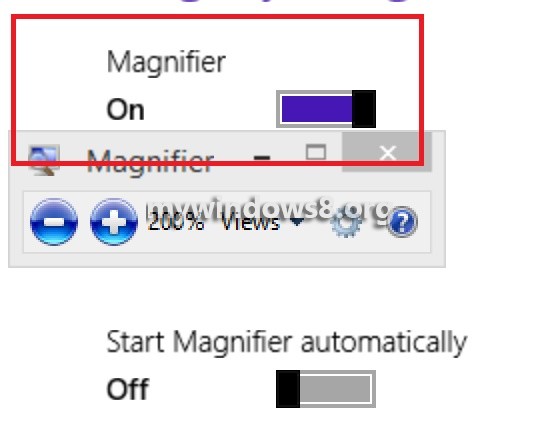 Another feature that enhances fine tuning of the screen fonts is the ClearType Text Tuner. Cleartype technology improves the readability of texts that appear on our computer screen and provides sufficient clarity and sharpness that makes the fonts look like those of printed papers.
Tracking sense allows to follow the mouse pointer, the keyboard focus, text insertion point and so on. For PCs that are being used by multiple users, magnifier can be turned on for specific users with reading disabilities and it activates only when he signs in the machine.
The following tutorial will help you to deal with the magnifier feature of Windows 8.1.
Steps to use magnifier in Windows 8.1
1. Open the charms bar (Windows Key + C) and go to Settings and click on Change PC Settings.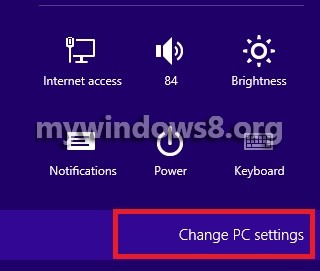 2. Select Ease of Access.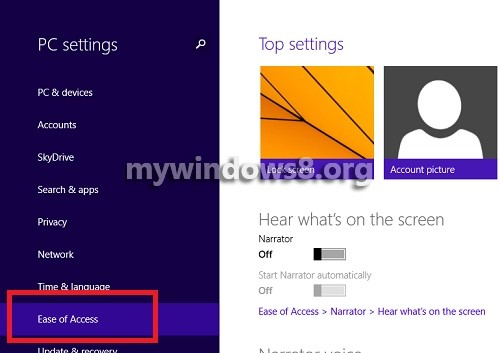 3. Select Magnifier.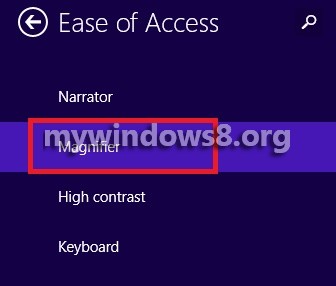 4. Magnifier is turned off by default.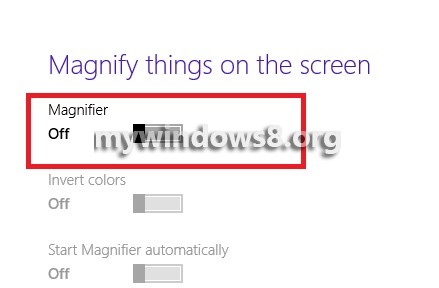 5. To turn on magnifier, move the slider to the right. All the objects on the screen will be magnified. ou can change some more custome settings like zoom in per cent, view mode.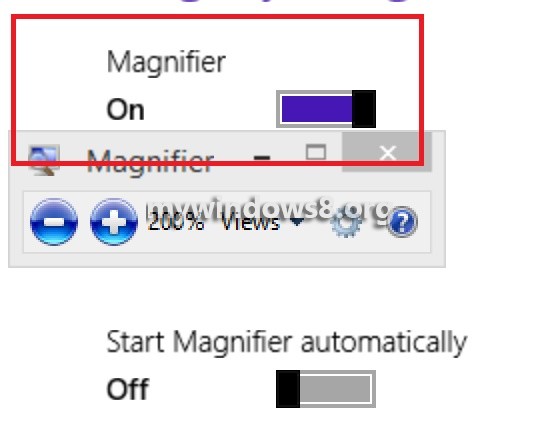 6. If you want to invert colors, move the slider of Invert Colors to the right to turn it on.