In Windows 10, there is a provision of using emojis via the touch keyboard. This feature was available from the older Windows 10 versions. There, you could enable the Touch keybpard by right clicking on the taskbar and then selecting the "Show touch keyboard button" menu. This adds the touch keyboard icon to your taskbar. Whenever you tap on the icon, the touch keyboard opens and then you can insert emojis. But with the release of the new Windows 10 Fall Creators Update, the Redmond based tech giant has integrated a standalone emoji keyboard panel. With this new emoji panel, now users can now add emojis anywhere you want.
To activate the emoji panel, all you need to do is press WIN and '.' (i.e. Win+fullstop/Period) or WIN and ';' (i.e. Win+Semicolon). The emoji panel will be launched. You can also navigate in the emoji panel using your keyboard. For example, the arrow keys can be used to navigate across the emoji panel whereas the Shift+Tab key can be used to select among different categories of emojies.
However, if you want, you can disable the Emoji panel.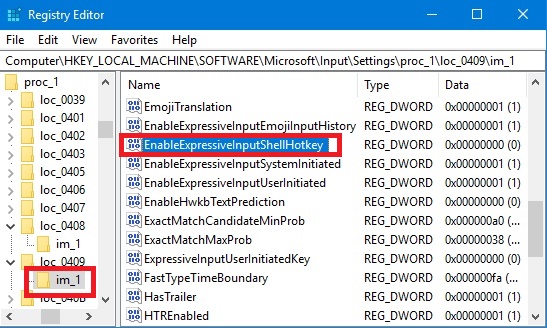 Steps to Disable Emoji Panel in Windows 10
If you also want to disable emoji panel in Windows 10, following steps will help you:
1. Press "Win+R" to open the Run window. Now, type regedit and hit Enter to open the Registry Editor.
2. Navigte to the following location
HKEY_LOCAL_MACHINE\SOFTWARE\Microsoft\Input\Settings\proc_1\loc_0409\im_1
3. In the right panel, you will find a DWORD EnableExpressiveInputShellHotkey DWORD. Here, you must remember one thing, that the DWORD is present in different sub-keys under "proc_1" key based on the the selected region in your computer. For e.g. if your region is United States, then the DWORD can be found in the following key
HKEY_LOCAL_MACHINE\SOFTWARE\Microsoft\Input\Settings\proc_1\loc_0409\im_1
4. So here is an easy way by which you can find the required DWORD without much hassle. Simply navigate to the location
HKEY_LOCAL_MACHINE\SOFTWARE\Microsoft\Input\Settings\proc_1
Now press Ctrl+F keys to open the Find option. Next, copy and paste EnableExpressiveInputShellHotkey in search panel and hit Enter. You will be redireted to the required keyword.
4. Now double click on the DWORD and change its value to 0.
That's it. The hotkey for the emoji panel will be disabled.
5. Now, if you again wish to enable the emoji panel back, then just change the value of the DWORD EnableExpressiveInputShellHotkey DWORD to 1 again.