You can upload latest videos clicked on your Windows Phone 8.1 smartphone to YouTube by using Cortana. How? The process is easier than you would expect and all you have to do is download an application called "Upload to YouTube" from Windows Phone Store. This app has been updated to version 2.1 and you have to update the application in order to witness the connectivity with Cortana. The app helps you share your video and upload it to YouTube directly from the Camera Roll. The idea is to quickly upload videos in YouTube. The process is smoother than ever and the new version gives you the scope to add more details to the video. Other updates include bug fixes, language support, removed video length limit and stability.
The application is a paid one and costs $ 0.99. Now let's go through the steps.
1. Download the latest version of Upload to Youtube from the Windows Phone Store.
2. Next bring up Cortana by tapping on the Cortana live tile on the home screen or by holding the search button.
3. Now say, Upload that last video to Youtube
4. It will take some time to upload. Then add some details to the video and there you go. You'll get a notification when upload is complete.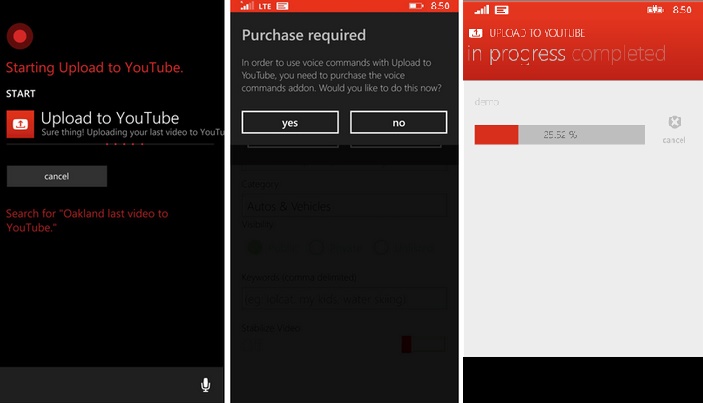 Download Upload to Youtube from Windows Phone Store.