How hard Microsoft tries to protect its product privacy, leaks are inevitable when it comes to the thirst for the tech savvy hackers. The new leak says that a French vendor called Ucall is set to release a new Windows Phone and the specifications are leaked out. The phone is going yo sport a 5 inch display, 8 megapixel rear camera, 3 megapixel front facing camera, 4GB of onboard storage, 1 GB of RAM, and a 1.2 Ghz processor, 2300 mAh battery and dual SIM support.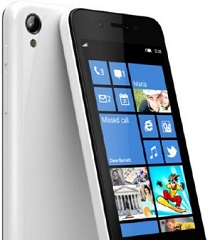 The specifications imply that the phone is manufactured for the bottom line of the spectrum because price quote is 139 Euros ( $191.00) without a contract. The name of the phone will be Redmond 5. The reason behind the name is based on assumption that it will be named after Microsoft's corporate campus in Redmond, Washington and the number 5 in the name indicates the 5 inch display.
Presently Nokia is working on a number of Windows phones and Redmond 5 will arrive by later June of this year.