Windows OS does not support DMG format of its own. DMG files are disk image files of OS X and is supported in MAC OS X system. But now, if you want to open a DMG file in your windows PC, u got to use a third party application to do it. Here are a few tools that you may find useful to open DMG file in your windows computer.
Users of Mac OS X would know that DMG is mostly used to install apps on Mac. In other words, apps that we download to install on a Mac OS X use .DMG extension and can be mounted easily by double-clicking on the file. However, Windows continues to be the most widely used computer OS here.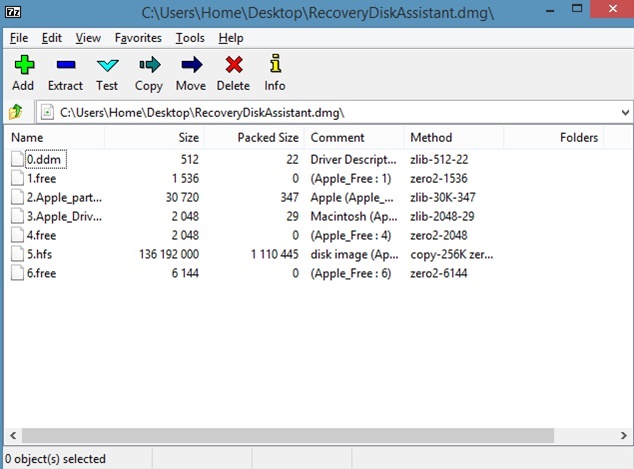 Here are a few tools that will come handy when you work on your windows PC and you got to open a .DMG file.
DMG extractor: DMG extractor is undoubtedly the best of the tools that you can use in this case. It is specifically designed to open DMG files, it can open encrypted .DMG files without having to first convert them to other formats. Raw, Bzip2, Zlib, and Zero block type DMG files are supported by DMG Extractor. Working with DMG Extractor is quite easy. After installing the software, right-click on the DMG file that you want to open and then click Open option to open the file with DMG Extractor. Alternatively, after launching DMG Extractor, click Open button and then select the DMG file to contents of the selected DMG file. You can extract DMG file to any location by just clicking the Extract button and select the location and hit save. The only demerit of this tool is that you can only open files up to size 4GB.
7-Zip: 7-Zip is a free tool used to compress and uncompressed files. In addition to 7z, Zip, and RAR formats, 7-Zip also supports DMG format. However, it's important to note that 7-Zip supports only unpacking of DMG files.
HFSExplorer: HFSexplorer is another freeware that can be used to open DMG files in Windows PC. Now, it's not as user friendly as DMG extractor. You need to install Java SE Runtime Environment 5.0 or above in order to run HFSExplorer and it doesn't support all type of DMG format, including DMG UDF format. The good thing about this tool is that there is no limit of size what so ever.
Here is a road map to use HFSExplorer-
Step 1: Download and install Java SE Runtime Environment 5.0 or greater version.
Step 2: Visit this page to download HFSExplorer and run the installer to get it installed.
Step 3: Run HFSExplorer, click File menu, and click Load file system from path option to browse to the DMF file.