Now, you install all missing features in Windows 8/8.1 at one go with Missed Feature Installer. Whenever a new version of Windows operating system is launched, it is packed with hundreds of new features. Microsoft adds new features to a version of Windows operating system and at the same time it also makes sure to discontinue some features that were part of the existing version of Windows.
The story remains the same for Windows 8 as well. Desktop gadgets (was discontinued citing security reasons), Aero glass, the famous Start menu, Windows Experience Index (not present in Windows 8.1), and legacy games are missing from Windows 8/8.1 which were a part of windows 7 OS.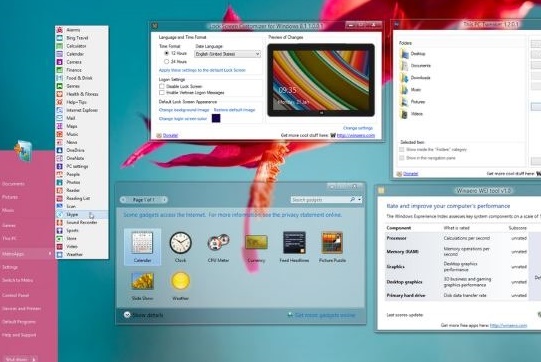 However, the best part of being such a widely used OS is that there are plenty of developers who constantly try to improve and improvise the user experience of Windows. So they make sure that the features that are discontinued are somehow brought back into the newer version of OS. For instance, as you likely know, there are tens of free Start Menu programs out there. And there are free tools out there to enable Windows Experience Index in Windows 8.1 Desktop gadgets pack has been ported for Windows 8/8.1.
Missed Feature Installer: now if you are missing Windows 7's feature in Windows 8/8.1, you can now install a single tool to get all missing features at once. Windows Missed Features Installer is a free tool and lets you get Aero glass, desktop gadgets, Start menu, and legacy Windows games all under one roof.
All tools bundled with MFI are freeware. The Start menu is from IObit, Aero glass from Big Muscle (not freeware, exactly), and Windows Experience Index, This PC Tweaker, Lock Screen Customizer, TakeOwnershipX, and User List Enabler are from the house of WinAero. Missed Features Installer lets you install .NET Framework version 3.5 as well. The only downside is that the size of the installer is 550 MB. So if you are looking to get one or two features , you better download and install those features/tools directly from their respective developers/porters.