Microsoft showcased the upcoming fluent design elements at the Microsoft's Build 2018 Developer conference today. Microsoft puts great emphasis on OneNote and Windows 10 Mail App. Other than these two applications, all other apps are Win32 and hence they won't get to experience the Fluent Design.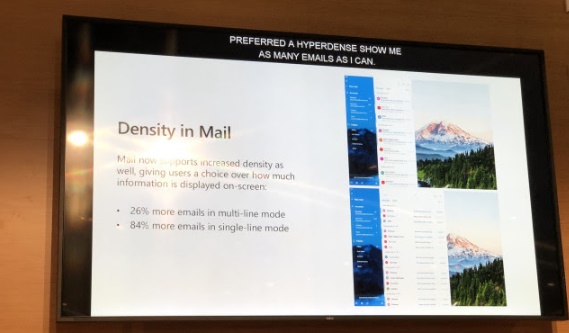 To be specific, OneNote is the first app to use the latest command bar flyout element. Besides this, there is another new density element that is compatible to a plethora of screen sizes, use cases, and resolutions. Microsoft has also integrated the density feature with the Windows 10 Mail app.
Windows 10 Mail App is now enriched with high end modifications. These include three primary settings such as space, medium, and compact. The Redmond based tech giant confirms that the new settings help users to see 26% more emails in multi-line mode and 84% more in single-line mode.
Right now, as the settings are, users can only view about six emails at a time on a low-resolution screen. Bigger controls might work better on a touch screen. Not every user uses the touch sensitive device, bigger UI controls don't need to be so big all the time. One flip side of the entire feature is that, the settings must be switched manually, rather than switching automatically when the user switches between tablet mode and back.