With every new Windows 10 Build, Microsoft introduces a plethora of stability features along with some new technologies if possible. A new feature that will be introduced in the upcoming version Windows 10 Build 10565 is quite an eye catching feature- nested virtualization. With the nested virtualization feature, a user can use different versions of Windows 10 by creating virtual machines and then, those virtual machines will have the capability to install another version by the creation of virtual machine. The concept is no doubt as simple as it appears to be. For a clear idea, you can check the screenshot.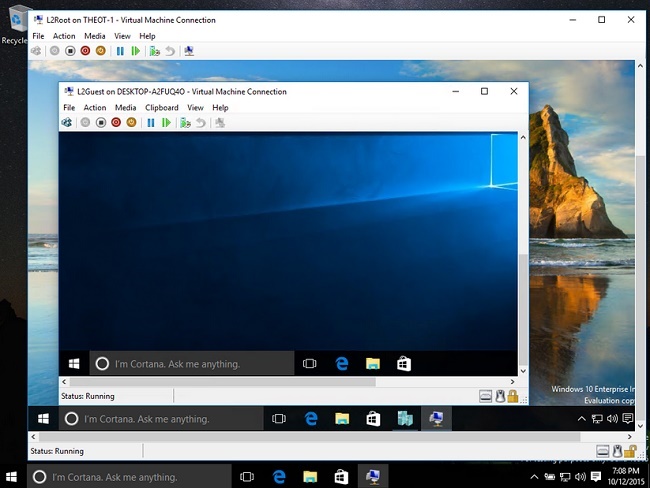 According to Virtualization blog of Technet
In essence, this feature virtualizes certain hardware features that are required to run a hypervisor in a virtual machine.

Hyper-V relies on hardware virtualization support (e.g. Intel VT-x and AMD-V) to run virtual machines. Typically, once Hyper-V is installed, the hypervisor hides this capability from guest virtual machines, preventing guests virtual machines from installing Hyper-V (and many other hypervisors, for that matter).

Nested virtualization exposes hardware virtualization support to guest virtual machines. This allows you to install Hyper-V in a guest virtual machine, and create more virtual machines "within" that underlying virtual machine.
The idea is simply outstanding as it aims to provide increased security against malicious threats and bugs that new versions often experience. Right now, the nested virtualization feature is supported in Hyper-V Containers in Hyper-V virtual machines. Even though the current build us susceptible to bugs, but Microsoft assured that the final version is going to be awesome.