Surface Pro is a tablet computer of Microsoft Corporation. Surface pro is another Windows 8 gadget that runs the Windows 8 Pro Operating System. This stylish tablet is powered by Intel Core i5 processor and has Intel HD Graphics 4000. It is provided with a digital touch sensitive pen which can be used directly on the tablet to write, edit and sign documents. Another unique feature is the DisplayPort which will enable you to present, PowerPoint presentations, videos, slides to be projected in a bigger screen.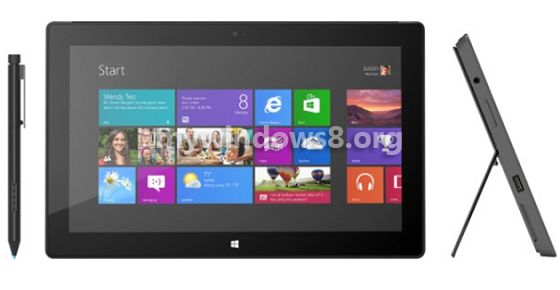 Surface Pro is very light weight, weighing 2 lbs. and offers easy portability along with the wide range of applications of all type. Special preferences are given to the business Apps which makes Surface Pro a perfect device for business interactions. Surface Pro can run all Windows 7 applications and can merge all latest technologies and applications of Windows 8.
The 2 lbs. device having a multipoint touch sensible screen of 10.6 inches that can sense 10 points with Clear Type Full HD Display and resolution of 1920X1080 pixels with 16:9 aspect ratio. Dimensions are 10.81 x 6.81 x .53 inches and it is available in Dark Titanium color with VaporMg casing. 4 GB Ram with Dual Channel memory and a storage capacity of 64 GB or 128 GB is available, which can vary based on the software support, updates and applications.  Two 720 HD Life cams with TruColor, one front and the other one is rear facing. Volume and power jack,stereo speakers, full size USB 3.0 port, Micro SD card slot, Mini Display Port, headset jack, cover port are the readily available ports.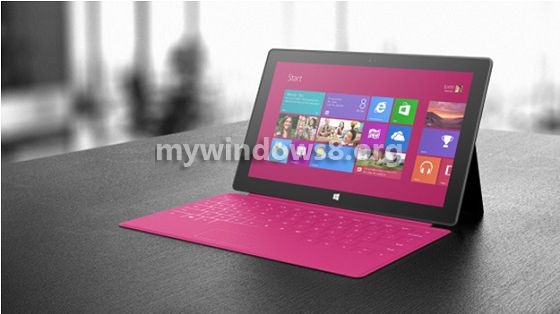 Surface pro has four types of sensors, ambient light sensor, gyroscopic sensor, accelerometer and compass for navigation. Other specifications include battery life of 42 W-h which is half of that of Surface RT, wireless connectivity via Wi-Fi (802.11a/b/g/n) and Bluetooth 4.0 Low Energy technology. Available compatible applications are Windows Mail and Messaging, SkyDrive, Internet Explorer 10, Bing,  Xbox Music, Video, and Games and many more. Accessories have a lot of utility with the device and one of them is the touch cover which can be attached to the gadget and works as a touch sensitive keyboard which is extremely responsive and fun to use.
Well this gadget as received mixed reviews till date. Although it has great specifications, yet it has severe drawbacks. The first and foremost is the price. The reported price is $899 which is far more than Apple iPad. We cannot expect surface pro to steal the limelight from the brand iPad and this challenge is very doubtful to most. Moreover an alternate available is the Dell's latitude 10 tablet with a much lower price quote. Again Microsoft's Surface Pro can not be considered as a powerful Windows 8 Gaming Tablet also. Surface pro being the new stepping stone of Microsoft in the world of hardware, lacks support of legacy applications, and suffers from poor battery life which will sever many users those who travel a lot and the thickness is twice that of Surface RT. This tablet has been a challenge for Microsoft and we are looking forward to its feedback as soon as it launches in the market.