Good news for Surface 3 fans! Surface 3 4G LTE is set to go on sale this week from July 3rd. In March, Microsoft had announced the Surface 3 tablet which is basically a smaller and more affordable version of the Surface Pro 3 which was launched in 2014. The firm has officially announced that they will be bringing the 4G LTE Surface 3 model to the UK and Germany on 3rd of July which will later be followed by France and Spain.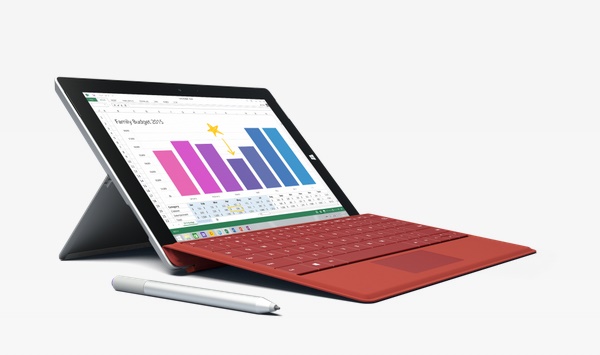 However unlike the older version, the sales of Surface 3 4G LTE will initially be handled by the carriers in the above-mentioned regions. The carriers who will be selling the Surface 3 LTE include Deutsche Telekom in Germany, Orange Business Services in France, as well as O2 in the United Kingdom and Movistar in Spain. No exact date is available at the moment. Surface 3 has received a decent response from the tech community, and the launch of the LTE enabled version of the tablet will keep consumers connected at all times, especially the business users.
The hardware giant also revealed that business users will get two configurations of the tablet, one with 64GB storage and second with 128GB of storage, both feature 4 GB of RAM and Windows 8.1 Professional. Customers will be able to upgrade to Windows 10 when it launches later this month on July 29th. Rest of the specifications appear to be the same as older version. There's a 10.8-inch display sporting a resolution of 1,920 by 1,280 pixels, a Quad-core Intel Atom x7-Z8700 processor, up to 10 hours of battery life, a full size USB 3.0 port, 3.5 MP front-facing camera, an 8MP rear camera for photos and videos, a micro SD card reader, WiFi, and Bluetooth 4.0 on the connectivity side.
We see particular excitement for our LTE-enabled Surface 3 with businesses and their sales forces, which is why this initial announcement is focused on business availability.
– Brian Hall, General Manager – Microsoft Surface
Surface 3 is the thinnest and lightest Surface and it goes from being a tablet to a laptop to a docked desktop without missing a beat. As Microsoft stated, this announcement is more targeted towards business and enterprise users and having a more mobile option in Surface 3 (4G LTE) is only going to create more opportunities. Addition of mobile broadband capability will make it uniquely capable among tablets to help you get more done wherever you are. Surface 3 LTE will be reaching all major markets vary soon!! Let's wait and watch, what it has to offer!