The new update of Windows Phone 8.1 is bringing plenty of exciting features like Live folders, internet sharing, Apps corner. In this article we are going to discuss on Apps Corner. Apps corner gives a new dimension to customization in which you can allow you friends to use only certain apps, set by you, whenever they use your phones. So it gives you a better privacy. The following steps will help you to activate Apps corner.
1. First navigate to Start screen from Apps Corner.
2. Then tap on 'Protect my phone with a password'.
3. In the New password box, type your desired password.
4. Type the password for the second time in the Confirm password box and tap 'Done'.
5. Now you can turn on or off the Action Center and Settings depending on whether you want people to be able to use these features when using Apps Corner.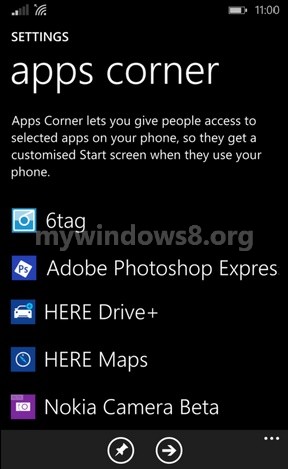 6. In you want to access advanced setting then tap on 'Advanced' option, and then turn it on or off depending on your choice. So you can always decide if you want people to use Camera button, Search button, Start button, Back button, and Modify Tiles.
7. Press the back button and the changes are automatically saved.
8. Then select the launch button at the bottom in order to run 'Apps Corner'.
9. So from next time whenever you let someone else use your phone or you won't need to worry. He/she can only see the way you have set it.