Microsoft has been rumored to have quit the Surface and rebrand the phone section to 'Nokia by Microsoft'. But a new image has been leaked and has gone viral in the internet which is alleged to be Lumia phone under the covers of 'Nokia by Microsoft'. The leaked image shows the back side of the smartphone that has the "Nokia by Microsoft" brand on it.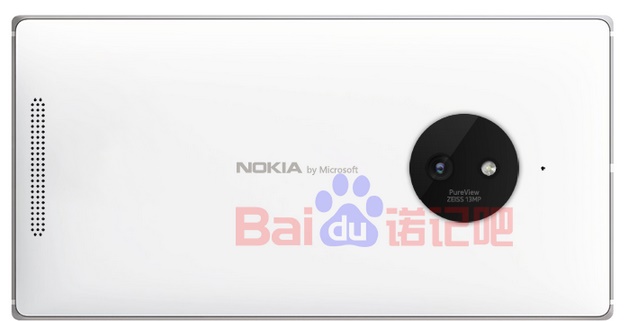 Few days back spyshots of Lumia 830 leaked and this unknown smartphone bears uncanny resemblance with Nokia 830. The leak did not provide ample information but only a PureView camera having 13MP resolution and Carl Zeiss lens and the new brand name inscripted on the smartphone. The leaked Lumia render appeared in the Chinese search engine Baidu and the news that the rebranding might see the light of the day has been hinted by our reliable and favorite leaker @evleaks.
The original Nokia Lumia 830 sports 4.5 inch screen with metal band but these images are not too clear to confirm. The topic of branding after Microsoft acquired Nokia has been discussed largely. Many thought that Microsoft would use its name only in branding but recently rumors indicates that Microsoft has been in discussion with Nokia. We can't confirm you the leaked images but if the images turn out to be authentic then Microsoft must gave given rebranding with Nokia a new thought.