The Raspberry Pi just celebrated its fourth birthday and on its fourth year, it has brought the world an enhanced computer Raspberry Pi 3 which bears the same price tag of $35 like its predecessor but is far more superior compared to its predecessor Raspberry Pi 2. The form factor has been kept the same as Raspberry Pi 2. The new model sports a 64 bit quad core Cortex-A53 ARMv8 based processor which is clocked at 1.2 GHz. Pi 3 also includes built-in Wi-Fi and built-in Bluetooth. Performance wise the Raspberry Pi 3 is 30% better clocked and 50-60 % faster.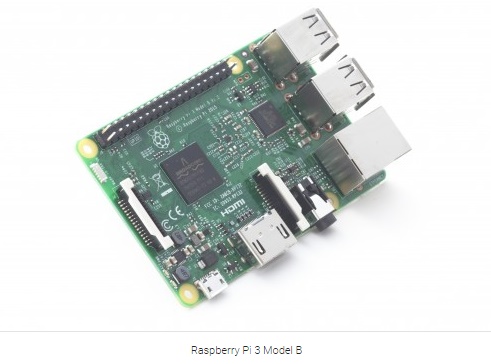 According to Eben Upton of Raspberry Pi, the new model will be a perfect replacement of a standalone computer. For the first time, wireless technologies have been incorporated on the device which will essentially provide Wi-Fi and Bluetooth connectivity. The processor used in Raspberry Pi 4 is manufactured by Broadcom. The interesting aspect about the Boradcom BCM2837 of Pi 3 is that it has used the same architecture as that of Pi 2 and Pi Zero so that the hardware fixes, software tweaks that were based on the previous versions work in correspondence to the new one.
In terms of performance the Raspberry Pi 3 is clocked at 1.2GHz compared to the 900MHz of the Pi 2, so that is a 33% increase from the start. However with the new CPU cores plus other architectural enhancements, the Pi 3 should be around 50-60% faster than the Raspberry Pi 2, or roughly a factor of ten times faster than the original Raspberry Pi. The chip used in Po 3 is also called the wireless combo chip. The chip has been designed using a 40 nm process technology that integrated dual-band 2.4 GHz and 5 GHz IEEE 802.11 a/b/g/n Wi-Fi connectivity. Bluetooth 4.0 and Bluetooth 4.1 are supported which means low power consumption.
As with all the other Pi boards, the Pi 3 is powered via a 5V micro-USB port, however this time you need to use a 2.5A adapter if you want to connect power-hungry USB devices to the board. Another notable thing about the new computer is that it implements the same 32-bit user and binaries as the Pi 1 and Pi 2.
Source: Raspberry Pi