Microsoft's Garage team has created a new app called Picturesque whose aims to cave-in Bing-centric features to mobile's lock screen. The big selling point for Picturesque is that the app allows you to easily change the image (from the past 6 days Bing homepages) with just a shake of the phone or by swiping to the right. Along with this, there are certain features designed only for Indians as well! Like with slight personalization, one can see his/her regional calendars and Muhurats.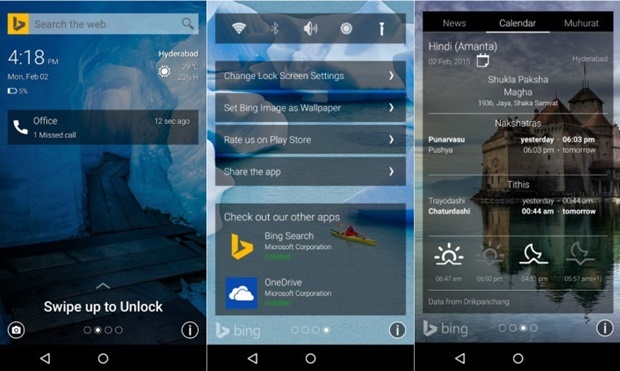 Key Features:
1. Beautiful Bing Homepage images: Your lock screen will be updated with the beautiful daily Bing image; you could swipe through the images from past 6 days or shake your phone to change the image on your lock screen.
2.Search on the lock screen: You could search for anything on the web directly from the lock screen and read all the linked pages without having to unlock your phone.
3. Latest news: Keep yourself updated with the latest news headlines and tap through to read the full articles.
Weather: Find out what the weather is at your current location; long tap through on the icons to get the detailed weather predictions for the week.
4. Notifications on Screen: See your missed calls and Messages quickly from your lockscreen. Quick call or reply from the notification from Home screen itself.
5. Regional Calendars & Muhurats (Only for Indian users): Personalize the lock screen to access your favorite regional calendars and Muhurat. Now you can figure out what festival is on for the day, rahu kalam, chogadiya/hora timings all from the lock screen itself.
6. Camera & Phone controls: Access your phone camera from the lock screen; Change your WiFi, Bluetooth, volume, brightness settings; also use your phone as a torch from the lock screen.
Microsoft already has a Screen lock app for business users (Next Lock Screen for Android). Picturesque seems to be aimed more for the regular smartphone consumer. This app is available for users to use at Google Play. Although this new app may bit difficult to use and impress everyone, it definitely gives fresh ideas for screen locks for our mobiles!