Notion Ink has launched two Windows tablets in India, the Cain 8 and the Cain 10. The Cain 8 and Cain 10 have almost similar specifications but will differ in screen size. The 10 will obviously sport a 10 inch screen while the Cain 8 will be accompanied by an 8 inch huge display. Notion has selected Flipkart as their online retails partner for selling the tablets in India. Let's have sneak peek at the specs of the Cain 8 tablet.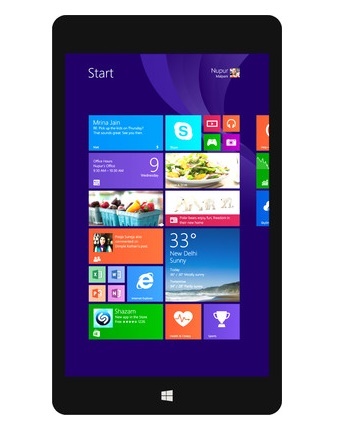 The tablet sports an Intel Bay Trail CR 3735F Quad Core Processor with 1.83 GHz processor speed. Cain 8 has a large 8 inch IPS LCD Capacitive Touchscreen with resolution of 1280 x 800 pixels. Cain 8 storage specs include 1 GB RAM and 16 GB onboard storage . However the storage might not be the same as in the specification sheet since some pre-installed apps will occupy some part of the storage. It will support 64 GB of expandable memory via micro SD card. There will be a 2 MP rear camera and a 2 MP front facing camera. Other features include Wi-Fi connectivity, 3G Data Connectivity via Micro SIM.
The device will run the latest Windows 8.1 OS with 1 Year Office 365 Subscription.
The price of the device is Rs. 9999 and the entire specification sheet is available for your convenience at Flipkart website. You can find the phone from this Flipkart link.