Microsoft has updated the Windows Phone Recovery Tool to a new version and that supports solely for HTC windows phones. The Windows Phone Recovery Tool 2.0.3 setup includes a major change that has finally made a room for HTC devices.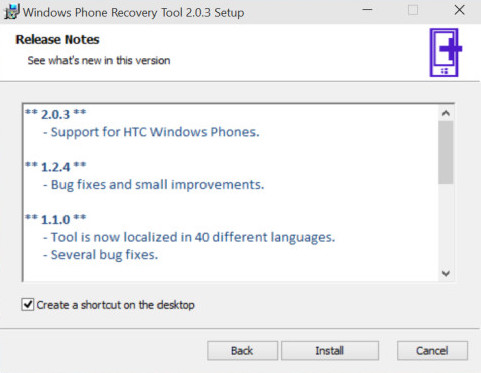 Earlier, the software recovery tool used to support for Lumia phones only but with the new updated version it supports HTC phones also. With the release of version 2.0.3, Microsoft has stretched it expands apart from Nokia and Microsoft devices; there was a little information about the new update. Now for any software related issue or software updates, no need to reach out to anyone. The recovery tool will help to reset and recover the phone's software. Now it's very easy to fix device issues that may be there while reloading the OS from the computer. This can also recover the phone if the phone is not responding, or it gets stuck or if it is not starting.
The best part is the new update supports Windows 10 for phones coming to HTC devices. Now, the users of HTC One M8 or 8X will have ease to switch to the official 8.1 release if they are facing any issues with the Windows 10 preview. Microsoft's Gabe Aul has assured that down the time it will support more devices but exact timeline and guidelines are not yet disclosed.
The significant feature is that a single supports multiple manufactures. Want to have the tool? It's easy, no need to search in the manufacture's support page. Just download the Windows Phone Recovery Tool and install it to recover the device. The Windows 10 updates are yet to be available for the HTC devices and so all the HTC users are eagerly waiting for it. You can have more information on the Technical Preview for Phones.