These days, it's really difficult to have your friends ready o meet you for lunch whenever and wherever you want. Even if you get to arrange a lunch together, it becomes equally difficult to co-ordinate and finally make decision on what to eat and where to have the lunch. This is surely a serious dismay but we never thought Microsoft will settle for uprooting every small problem from our lives. Microsoft has come up with a new app called Tossup that will guide you to connect and organize your friends for a lunch.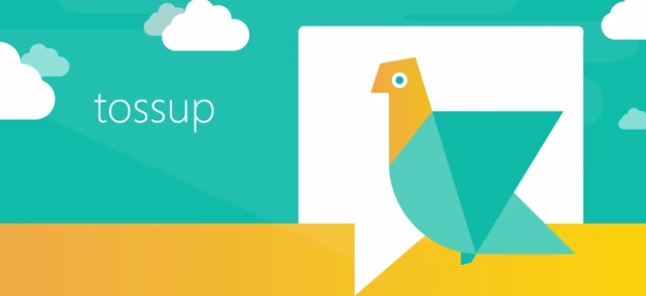 This app is another cross-platform app by Microsoft and is available for Android and iOS. The Garage group of Microsoft has developed the Tossup app which enables you to connect all your friends through the app so that they can interact with each other and decide a time and a place feasible to every one. The process starts when you type a message like "Who is free for lunch today?" ad send it to your friends via the app. You can ask several more questions like preferences of menu, dishes, location or restaurants just like polls.
The first thing that you can decide through Tossup is location. One the place is decided the app will start suggesting restaurants nearby to the fixed location. You can take suggestions from friends, check ratings and then finally hit in.
Now one question rises about this Tossup App. It's that the same thing can be done by using WhatsApp group chats. Even though Tossup can do additional things regarding selection of restaurants and menus, but will be able to make a place in every person's smartphone with such minimal features? Let's see what time says!