Are you a fan of WWE and also a gadget freak? Then we have some good news for you. Just before the WrestleMania 31, Microsoft is promoting its Microsoft Band wearable fitness tracking band in collaboration with WWE. The company is teaming up with two of most popular wrestlers, Dolf Ziggler and Ryback who will endorse the Microsoft Band. The two superstars of WWE will wear this band in order to keep a track of there fitness while they'll prepare for WrestleMania.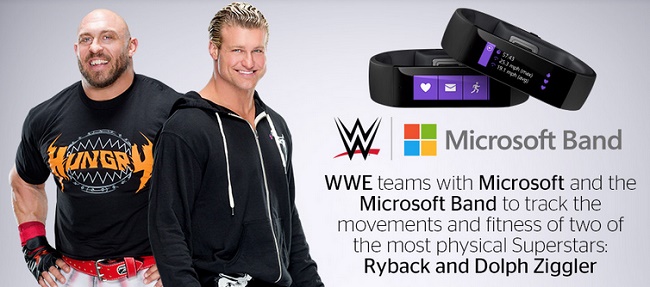 The WrestleMania is a very popular tournament of WWE. Microsoft has been focusing on the promotion and marketing of Microsoft Band just after it announced the sale of the gadget to some new stores. WrestleMania 31 will be held at Levi's Stadium in Santa Clara, Calif., this Sunday at 7 PM ET/4 PM PT.
Microsoft Band is the latest wearable gadget from Microsoft which is not a smart watch but mainly a fitness tracker. The Band has several sensors which can track your heart beat, pulse beat, pressure, your walking steps, UV protection and other requirements for your skin and many other health stats. Microsoft Band has multifarious applications related to health and the marketing campaign by the two wrestling stars will surely boost its sale and its popularity among people. The company is hopeful that more and more people will purchase the product seeing their favorite stars use them.