The inception of Windows 10 witnessed a huge change in Windows OS from every aspect. Most of the changes are affirmative and the Windows Feedback app is one of them. The Windows feedback app launched as an important part of the Windows 10 preview builds and the Windows Feedback app established a regular connectivity with the users and developed the future builds based on the user feedback. With every new build, with every new app or new settings, the computer used to ask the users if they liked it or not. The entire development process of Windows 10 involved the users' perspective all along. Thus Windows Feedback soon emerged to be a Favorite and users now use the app for their regular troubleshooting or feedback.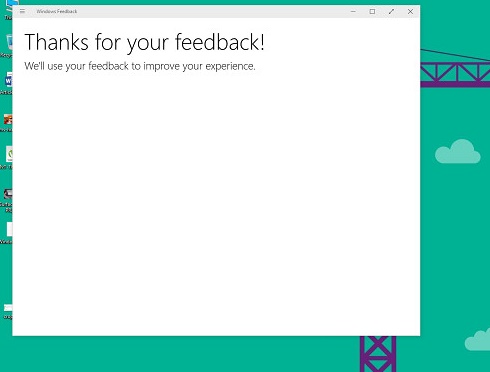 Microsoft had launched the UserVoice sites for both Windows desktop OS and Windows Phone which offered the same functionality but the popularity and flexibility of Windows Feedback app were such, that it has taken over the UserVoice sites. The Redmond giant is now shutting down the UserVoice sites.
With more than 110 million devices running Windows 10, we want to consolidate our feedback tools into one system that will enable our engineering team able to respond faster to the feedback from our community…Windows Feedback gives all engineers in Windows access to the complete set of raw feedback that users provide in the tool. Because it is plugged directly into our engineering system, it not only makes it easy for the engineers to find user feedback, but also makes it easy for them to act on it. Windows Feedback also enabled two-way conversations between engineers and our more than seven million Windows Insiders. This allows you to see if your feedback is in our systems, and ready to be promoted to a work item.