Microsoft is saying "Bleed Blue". Now Indian cricket fans don't confuse it with Cricket. Even though the tagline is the same, but it has nothing to do with cricket but everything with Windows 10. Microsoft will launch Windows 10 on Jul 29th and the tagline is a promotion of Windows 10. After a prolonged preview and testing session, Windows 10 is finally making its way for official release. Microsoft has so much more to offer its users with Windows 10. Improved UI, Microsoft Edge, Cortana for Windows 10 are some revolutionary upgrades.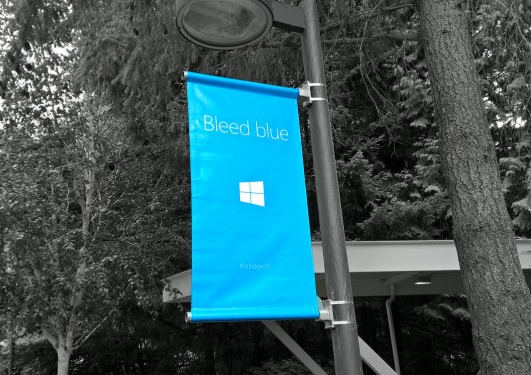 Now that you know the occasion, you'll be surprised to know that the entire Microsoft office is painted blue with beautiful blue banners saying "Bleed Blue". There was a time some 30 years back when the company was decked up with beautiful banners and flags just before the release of Windows 1.0 and now it's for Windows 10. Windows has undergone a humongous transition in these thirty years. It can be well understood that Windows 10 is a masterstroke of Microsoft which is the reason behind this overt enthusiasm.
Beyond the banners and decorations, other events that are included are OneWeek (the company-wide hack-a-thon) along with many other festivities. Microsoft will also throw a grand party, for both on and off campus employees. This is a small way to appreciate the untiring hard work of the employees that contributed in making the OS. Microsoft has invested millions of dollars on promoting Windows 10 via electronic media which include ads on TV, internet, Facebook, YouTube and the web.