In the current market scenario, where big firms are fighting over every customer to increase their market share in the mobile business, Microsoft is giving away iPhones as freebies instead of their own Nokia products. This can be seen in China, where Microsoft looks to promote XiaoIce, which is Microsoft's personal digital assistant, Cortana's Sister.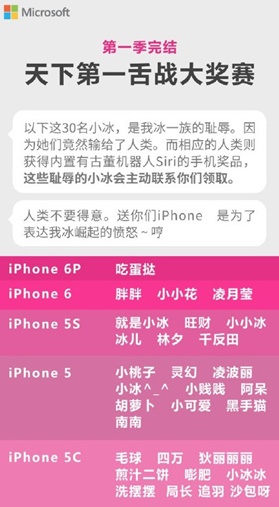 XiaoIce, which literally translates to "Little Ice", is a personality that lives on several of China's social networks like Weibo, China's version of Twitter, that you can interact with by asking questions.
The above image, is regarding a competition, in which a user has to chat with the XiaoIce bot to get it to say certain phrases. Users able to do that will be able to win different versions of the iPhone. There are various iPhones listed as the prizes, ranging from the iPhone 5C, with the first prize winner being awarded with an iPhone 6 plus.
However, it seems ironic as Microsoft should be giving away its Windows smartphones, to boost its sales, which haven't been great after the company bought them from Nokia for 7 billion dollars. Instead they decided to use competitor products like the iPhone which seem very lucrative, to rope in more customers for the promotion. The windows fans won't be very happy with this act of betrayal, as they wouldn't expect this from the company they are backing. This competition is hosted on Sina Weibo and is exclusive only to people living in China.