Microsoft launches a new plugin for Microsoft PowerPoint called Social Share. This plugin allows you to share your slides instantly to social networking sites like Facebook and Twitter. Social Share gives you additional options to share the snippets as an album, a photo, a photo snip, or as a video. You can also create shareable links via OneDrive.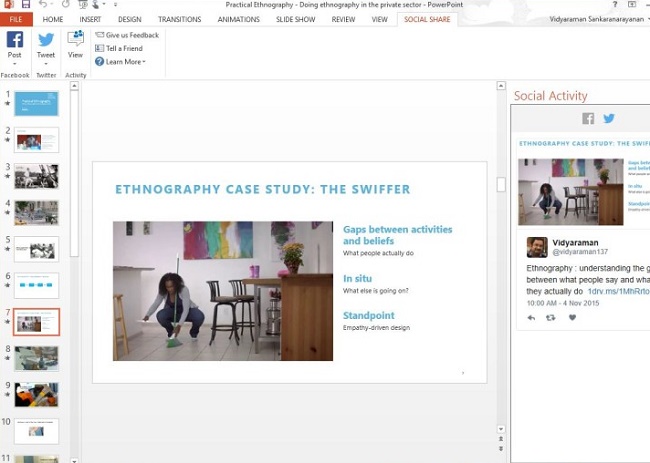 The main aim of this plug in is to share your work and interact with your acquaintances regarding your project and its progress. Currently many features are unavailable in the plug-in like adding location tags, friend tags. Users can give feedback and express their ideas or any feature they want through User Voice or email.
When you take the snapshot of your PowerPoint presentation, you have to save it in your desired location. By default, the snippets are saved in your "Documents" folder. Check your C:\Users\\Documents\ folder for your presentation. Social Share also facilitates you to share your entire presentation by creating shareable links in Facebook and Twitter. When you share the links, users can read and access the files, but that doesn't mean your files security will be hampered. the documents will be uploaded in a Read only mode so that no one can change it or reproduce it.