Microsoft has announced several partnerships at the World Wide Partner Conference and spoke out about several new upcoming technologies. Microsoft had also shared its plan to expand Cortana beyond Windows Phones and hence announced Cortana Analytics. For many days Microsoft limited the functionality of Cortana as AI voice assistant to only Windows Phones. Owing to the increasing popularity, Microsoft planned to leverage the compatibility of Cortana beyond Windows Phones and included the feature in Windows PC.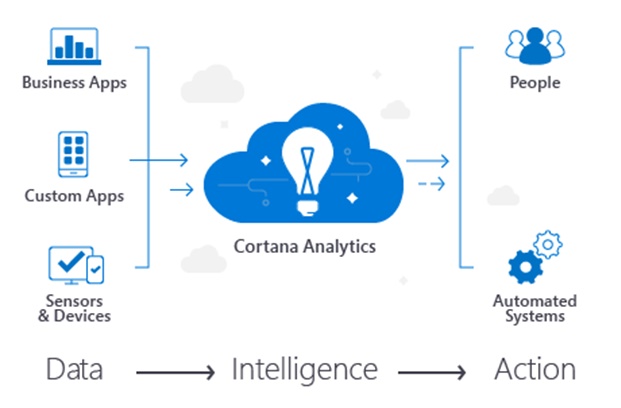 Cortana Analytics is one such project which aims to deliver big data and advanced analytics capabilities. This will aid enterprises to transform their data into intelligent action. As stated by Microsoft, "With Cortana Analytics, we are taking years of research and innovation – spanning technology and infrastructure for advanced analytics, including capabilities like machine learning, big data storage and processing in the cloud as well as perceptual intelligence such as vision, face and speech recognition, with the goal of helping enterprise customers make better, faster decisions to accelerate their speed of business. Additionally the Cortana Analytics Suite integrates with Cortana, Microsoft's digital personal assistant. Cortana works with the Cortana Analytics Suite to enable businesses to get things done in more helpful, proactive, and natural ways."
Microsoft further mentioned, Cortana Analytics Suite enables core analytics scenarios such as real-time recommendations, customer churn forecasting, fraud detection, predictive maintenance and many more. For example, Dartmouth-Hitchcock Health System, the largest hospital in northern New England, is developing a remote monitoring and predictive analytics solution called ImagineCare using the Cortana Analytics Suite. Leveraging predictive analytics, ImagineCare will enable dynamic treatment plans based on the individual patient's history and profile and patterns observed from a broad corpus of data. ImagineCare aims to significantly enhance patient outcomes by predicting the probability of catastrophic events such as heart attacks and emergency readmissions before they happen.
So we can understand how Cortana Analytics will implement perpetual intelligence in a fast, secure and scalable way.