Just before a week ahead of Windows 10 launch, Microsoft announced a new partnership with Bromium which will take the security level of Windows 10 to an all new level. Bromium is a security provider company which redefines endpoint protection and endpoint security with a new approach which is mainly focused on isolation rather than detection. Microsoft has partnered with Bromium in order to enhance the security of Windows 10. Bromium is reportedly going to incorporate micro-virtualization security solutions in Windows 10.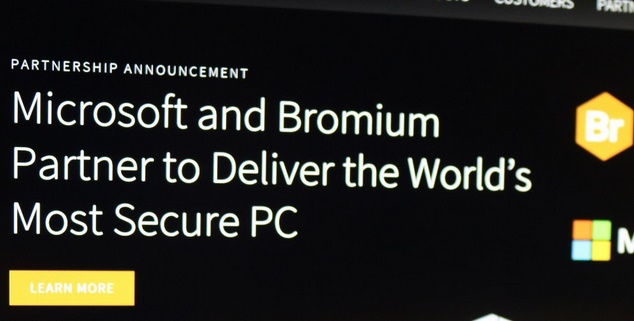 Microsoft is focusing on ameliorating the security of Windows 10 so that it can be used as official devices in most of the companies. End users are always targets of cyber threats. So if a user clicks on any suspicious link, and downloads any software unintentionally, the security of the company will be at stake. Bromium's micro-virtualization will isolate threats by implementing virtualization of a device's hardware. In this way virus and malwares can no more jeopardise the integrity of a company.
Ian Pratt, CEO and Co-founder of Bromium stated
Our strategic partnership with Microsoft is centered on a common technology heritage and a shared goal of hardening the endpoint to prevent enterprise breaches. This partnership validates micro-virtualization as a foundation for future desktop security and assures Bromium's security products are compatible and complementary to Microsoft's efforts to enhance security in Windows. Microsoft and Bromium together make Windows endpoints secure, defeating attacks by design and delivering real-time threat insights. We are proud to be working closely with Microsoft to help end the era of enterprise breaches.