Lenovo launched the latest and thinnest ever convertible Ultrabook Lenovo Yoga 3 Pro with adaptable orientations. The Yoga 3 Pro can work as four different devices owing to its variety of orientations- tablet, laptop, tent and stand. The device has a pretty large screen 13.3 inches with just 12.8 mm thickness which means the device is slimmest of all and a weight of just 2.6 lbs also satisfies its light weight advantage. Lenovo Yoga 3 Pro brags its extremely flexible and lucid design which has been manufactured with the best of technologies.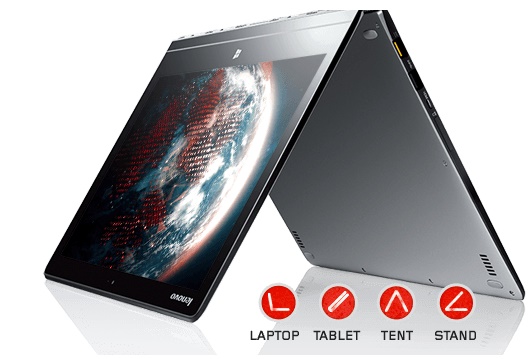 The most propitious features that makes the device stand out of the queue of its predecessors is its lighter weight and thinner body. The processor is powered by Intel Core M processor– the best of all used for multimode devices. The large display is enriched by super-high-resolution QHD+ (3200 x 1800) 10-point multitouch display. The graphics is endorsed by Intel® HD Graphics 5300.
Watch Band Hinges
Now, coming to the most resplendent aspect of it, the ultra flexible hinges. The design is inspired from watch band hinges and is crafted tenderly with 813 individual pieces of aluminum and steel. The aluminium and steel also gives a stylish touch to the appearance. The flaps can be rotated up to 180 degree. However, one thing we are still skeptical about, is its use as tablet. This means the angle between the flaps will be 0 degree which means the keyboard will be in constant touch with one object or the other. the pressure might turn out hazardous at one point of time. Still, let;s head towards the remaining features.
Yoga Harmony
As the name suggests, the device will run in harmony with your desires with its intuitive optimization settings. These settings prompts you or recommends you to use certain apps, thus understanding your requirements.
Ultra fast Internet, Intelligent Audio are some more interesting features. The device runs Windows 8.1 64 bit operating system with enhanced security and Cortana. Yoga 3 Pro comes with three vibrant colors Golden, Clementine Orange and Light Silver. Price starts from $1200. A special discount offer is going on at Lenovo.