Kamera Plus is a camera application for Windows Phone which possess a lot of filtering and editing options. The effects are implemented while taking pictures in both the front and rear cameras. The application is small is size, about 4 MB and possess a simple and colorful layout. When you install the app you will get two options Kamera or Gallery. If you choose the former option you will be led to the camera option where before taking pictures you can apply effects and filters. If you choose the later option, you will be taken to the Gallery of saved images.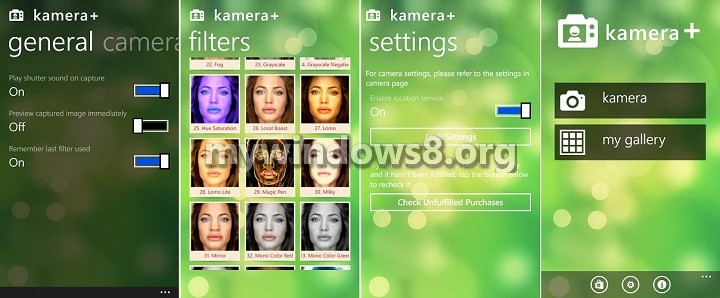 Kamera Plus app has sixty-two filters that include Antique, Sepia, Fisheye, Grayscale, Lomo, Pixilation and many more. The free version of Kamera Plus is ad-supported and gives you access to 30 of these filters. You can subscribe to the premium version fir accessing more filters and at the same time have an ad free experience.
In the gallery option, you can share a photo via different applications including social networks. You can set an image as lockscreen. Furthermore it has settings for lockscreen as well. But what I person felt about this app is that it's haphazard. There are many things but all scattered here and there. It would have been better if the settings came under a single tab. Besides my Lumia faced a lot of bugs like when the front camera was used the screen turned black and nothing could be seen. Then the app stops suddenly. Besides I could not find out an option to edit already saved images from the gallery.
So overall the effects are good but nothing outstanding. The app has to go through lot of improvements and bug fixes with future versions to improve performance.