HP unveils three new Windows notebooks from the HP ENVY Series. The three new notebooks from the HP ENVY series will sport some highly sophisticated specifications. There are two screen sizes available, a 14 inch and a 15.6 inch model. The most appealing feature about the design of these two models is the elevated lift hinge. The elevated lift hinge lifts the keyboard slightly to give users a soothing typing experience and at the same time provide enough space for air circulation. This will essentially reduce the heating problem that notebooks often face.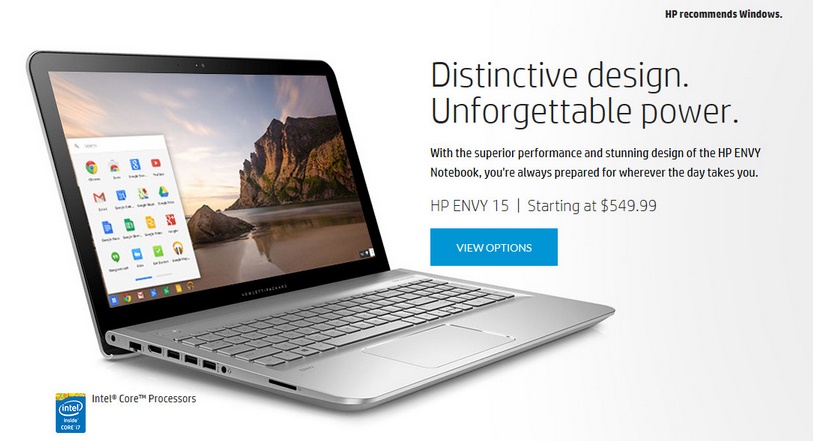 The devices will have 2 TB of storage which includes hybrid HDD/SSD storage options and 16GB of RAM. Both the 14 inch and 15.6 inch models will have two variants- with Intel core i5 processor and with Intel core i7 processor. These models will have backlit keyboards which will facilitate seamless typing even in the dark. Now the former model will have three USB 3.0 ports and up to 10.25 hours of battery life.
The 15.6 inch model will come with touch support or without touch support but the 14 inch HP ENVY models will not get the touch facility. So 15.6 with touch facility will definitely get some more thumbs up provided the precision of sensor is good. The 15.6 inch notebook will also come with AMD FX and A10 accelerated processors, with NVIDIA GeForce 940M or GTX950M, or AMD Radeon R7 or R6, graphics cards.
The third model in the queue is the HP ENVY with 17.3 inch humongous screen. The specifications of this model is more advanced with Intel core i7 processors with NVIDIA GeForce 940M or GTX950M graphics, and can be configured with up to 4TB of standard hard drives, solid state drives or hybrid, three USB 3.0 ports etc. While the 15.6 inch model will have Quad HD resolution, 17.3 inch model will have only full HD resolution.
The price are listed below:
14-inch ENVY starts at $699.99.
15.6-inch starts at $629.99 (AMD models)
15.6-inch starts $799.99 (Intel models)
17.3-inch version starts at $999.99.
There are a plethora of features coming with the notebooks. Moreover the Intel processor models will have fingerprint reader and fingerprint supporting security software.