Belarc's products are used for software license management, information assurance audits, cybersecurity status, configuration management, etc. One of the popular functions of Belarc Advisor is providing software license information. It is good at finding serial numbers and product keys for the installed programs. It can also help to find a list of the free product key for programs.
Belarc Advisor:
Belarc Advisor is more than an advanced system information tool as it can help you in managing the software licenses and many more. The Belarc Advisor has a free downloadable license and for personal use only. The work function of Belarc Adviser is to gather pieces of information regarding below sections and displays the result in a web precisely,
Missing security patches
Anti-virus status
Detailed profile of installed software and hardware
NIST SCAP security configuration
Note: All the profile information is private to the user's computer and is not sent to any Web server.
The generated report:
The report is divided into several sections, and the final report lists below information,
Detail of local user and system accounts
Specification of computer hardware
A map to the local area network
A list of software license keys
Piece of software last used.
Belarc Advisor also gathers information on software installation, CPU, RAM, video card, motherboard, network information, and software updates. Belarc Advisor works on both 64-bit and 32-bit versions of Windows 10, Windows 8, Windows 7, Windows Vista, and Windows XP.
Download Belarc Advisor:
Download Belarc Advisor is very simple as downloading other software. Click on this link to get redirected to the official download page.
You can see an interface, as shown below. You can download the Belarc Advisor software by providing inputs to the required fields. Please make sure to provide the correct Email Address.
Fill the following details and hit download.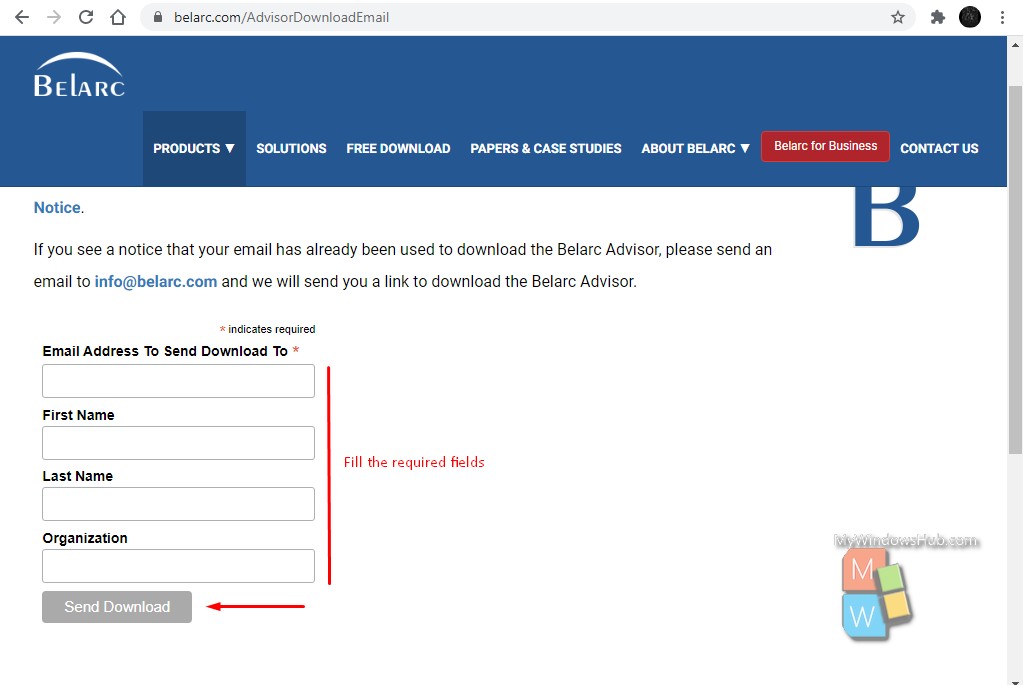 Then please check your email for the download link and other information. Once the tool is downloaded and run the software to begin.
USES:
Double-click on the Belarc Advisor icon, and you shall be redirected to the interface, as shown below.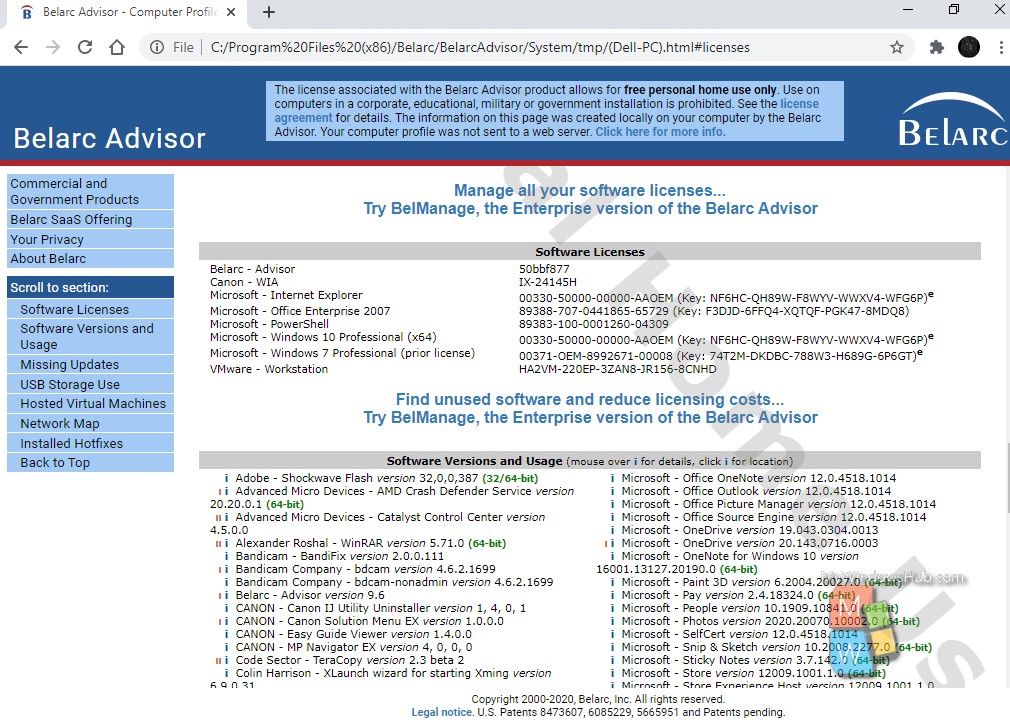 On the left side of the interface, you can find different sections like Commercial and Government Products, Belarc SaaS Offering, Your Privacy, About Belarc, etc. Let us discuss those sections.
Software Licenses: This section manages all the software licenses. You can find a Windows license, Browsers, Antivirus license, etc.
Software Versions and Usage: In this section, the Belarc Advisor finds unused software and reduces licensing costs. You can see the unused softwares and their versions on your system.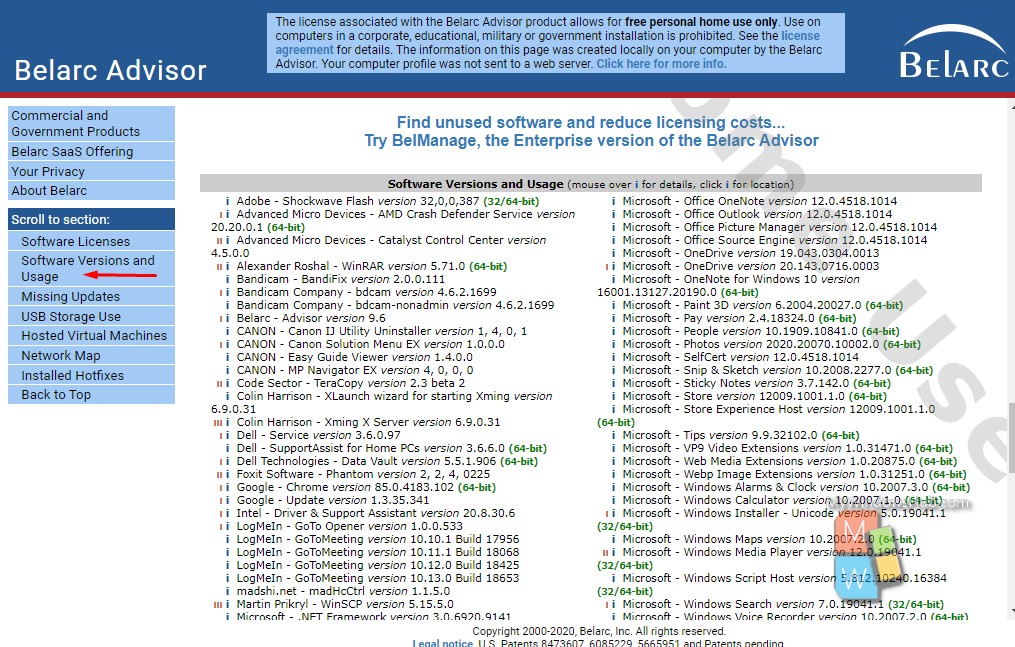 Missing Updates: Belarc Advisor finds the missing updates of the installed software on the PC.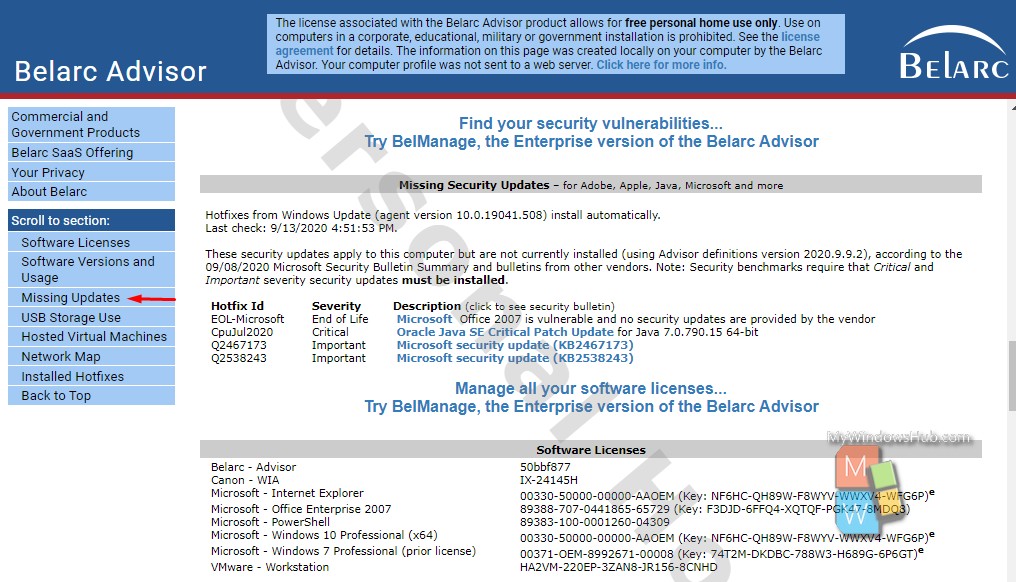 Usb Storage Use and Hosted Virtual machines: In this section you can see the use of USB Storage device and last use of virtual machine.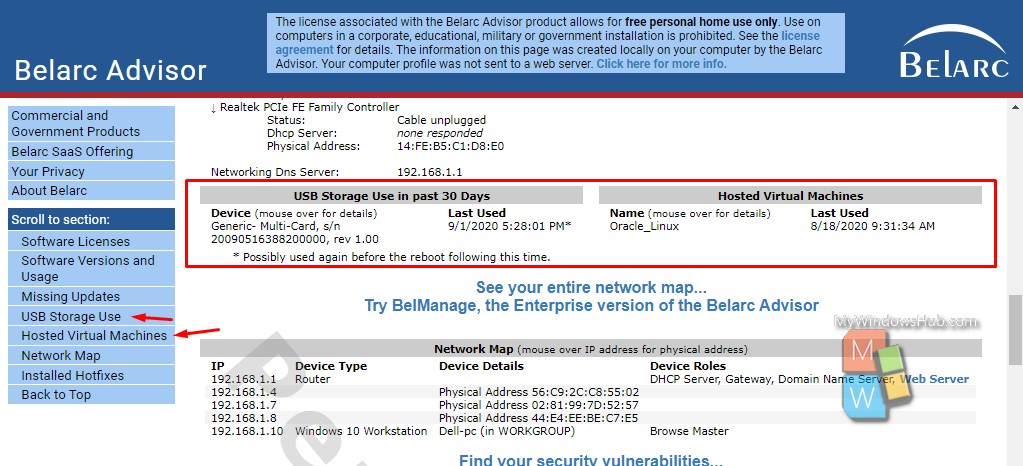 Network Map: It displays the Network map including IP address, Physical adress, etc.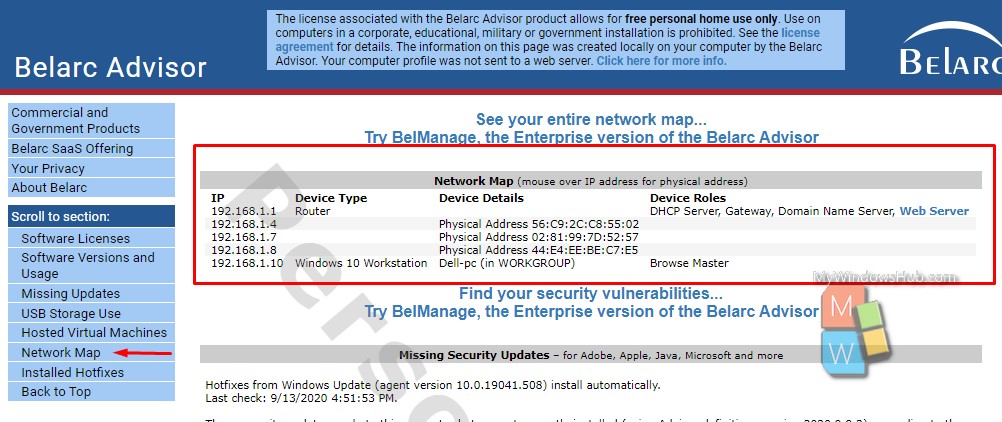 Advantages and disadvantages of Belarc Advisor :
Advantages :
4 MB size software that is entirely free of cost.
The processing time of Belarc Advisor is insignificant, i.e. you shall be able to see the full Computer Analysis report within minutes.
During installation, no adware, toolbar or, spyware is included.
It can give you the privacy of your data. It means your profile is not going to get cached on the browser.
Disadvantages :
No portable version is available for software; you need to install the software to use.
As your profile is not stored online or on the browser, you can't store it in the cloud, i.e. you need to generate the report every time you need it for references.