When it comes to streaming multimedia content without any jitter, Airplay tops the list. Apple's Airplay allows you to stream audio, video, photos, and screen mirroring. Initially, it was developed exclusively for Apple users only, as we know, Apple always keeps it's exclusive content and features to Apple users only. This is the only reason many user never thought of running Airplay on their Windows machines. Well, the Airplay was made available to Windows user as well. In this article, we shall be discussing features and steps to configure Airplay on a Windows-based system.
Note:
All the steps are shown in this article executed in Windows 10 pro system.
You need to have at least two or more Airplay compatible devices.
All the Airplay compatible devices should be in the same Wifi network.
Basic feature such as streaming audio comes with free iTunes. But for advanced mirroring and streaming, you need to download and purchase some third-party tools.
Why Apple Airplay?
Airplay allows you to stream multimedia content directly to the connected devices with zero lag. Airplay is mostly used for two purposes, the first one is streaming, and the second one is the mirroring.
Streaming: Allows you to play video and audio wirelessly
Mirroring: Allows you to display your screen on another device
How To use Airplay On Windows 10?
The basic version of Airplay comes with the Apple iTunes. With the iTunes feature, you can only stream the audio files on your Windows machine, provided the devices are compatible.
Search for the "Microsoft Store" keyword and open the application as mentioned below,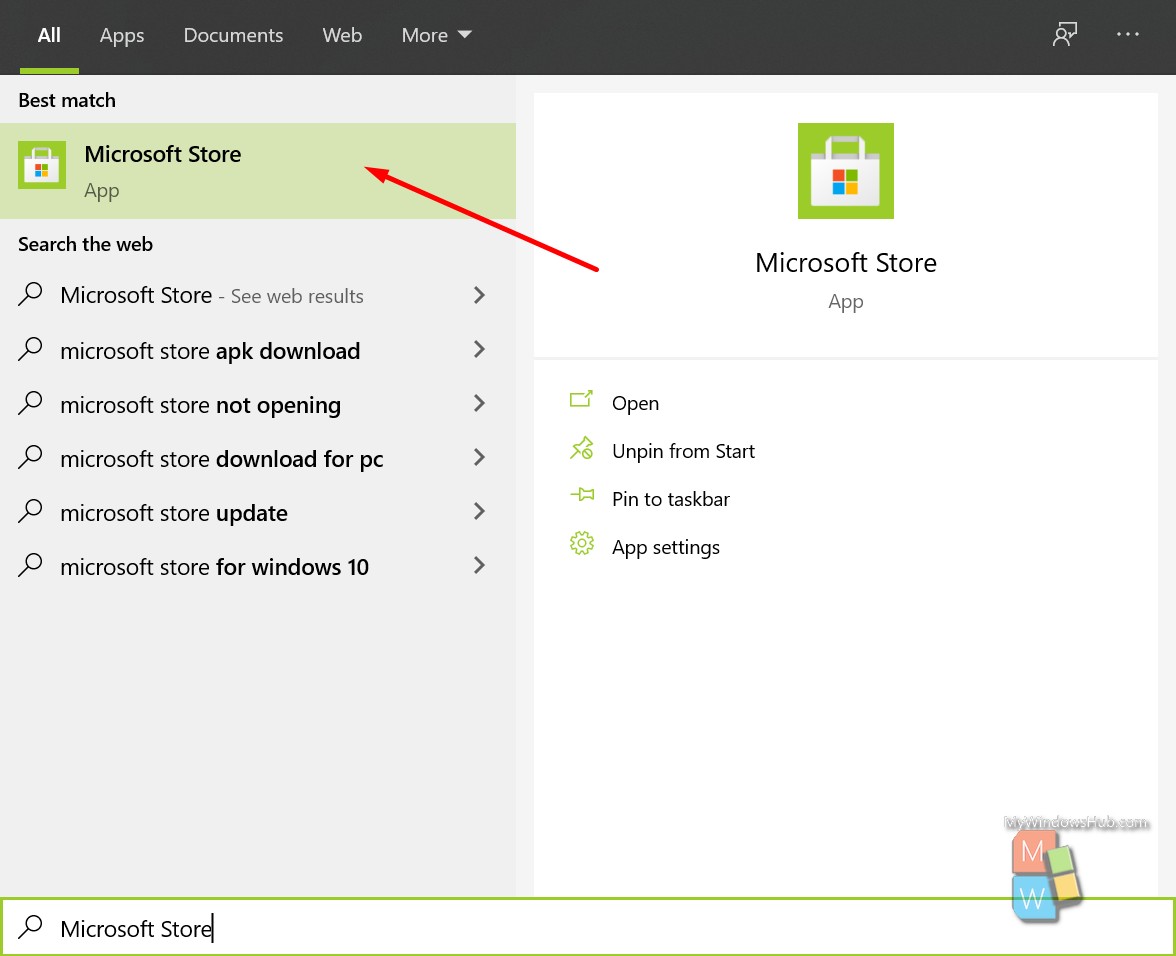 Search for the "Apple iTunes" keyword in the Windows Store.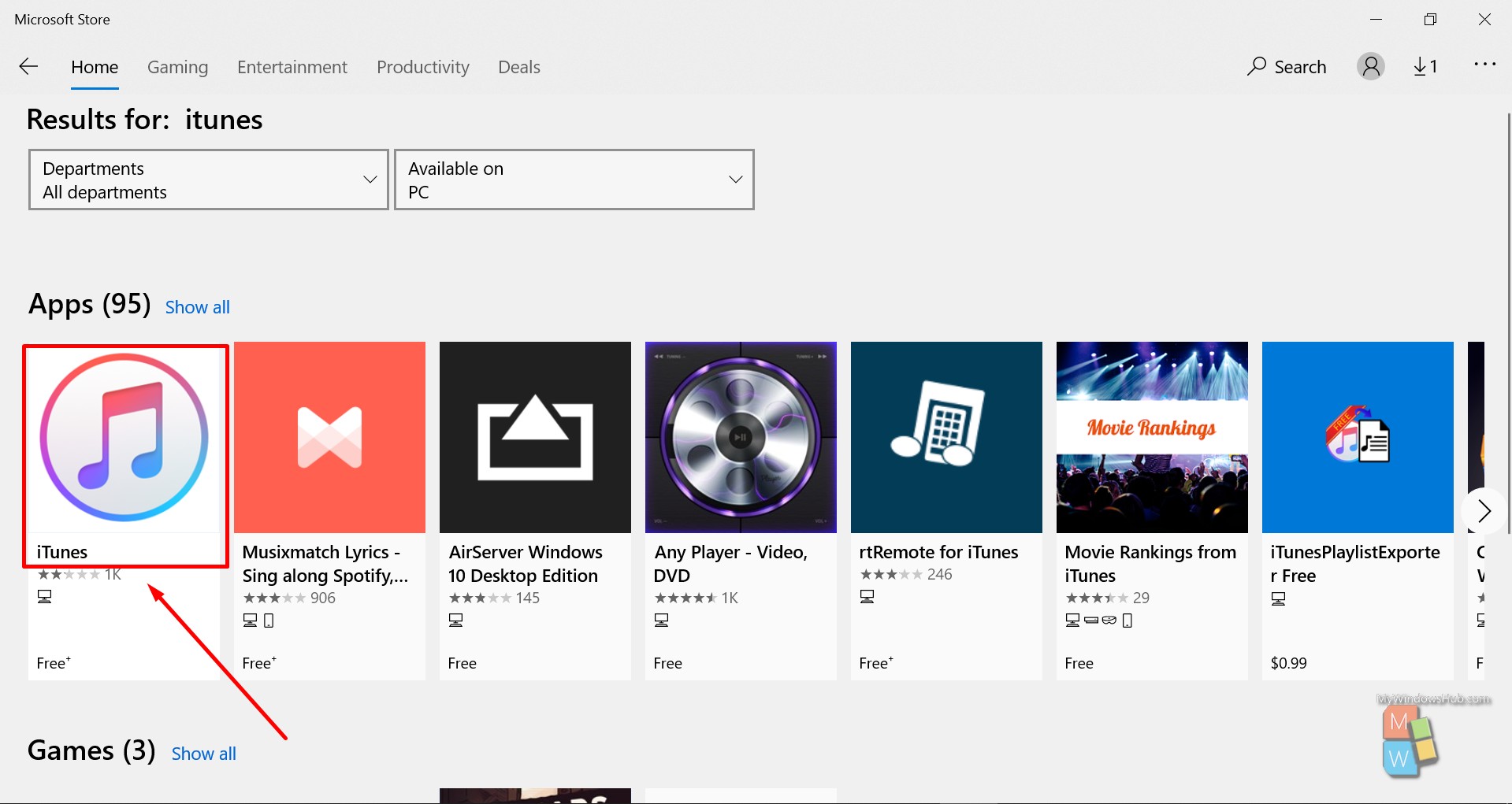 Click the "Get" button and wait for a while to complete the installation process.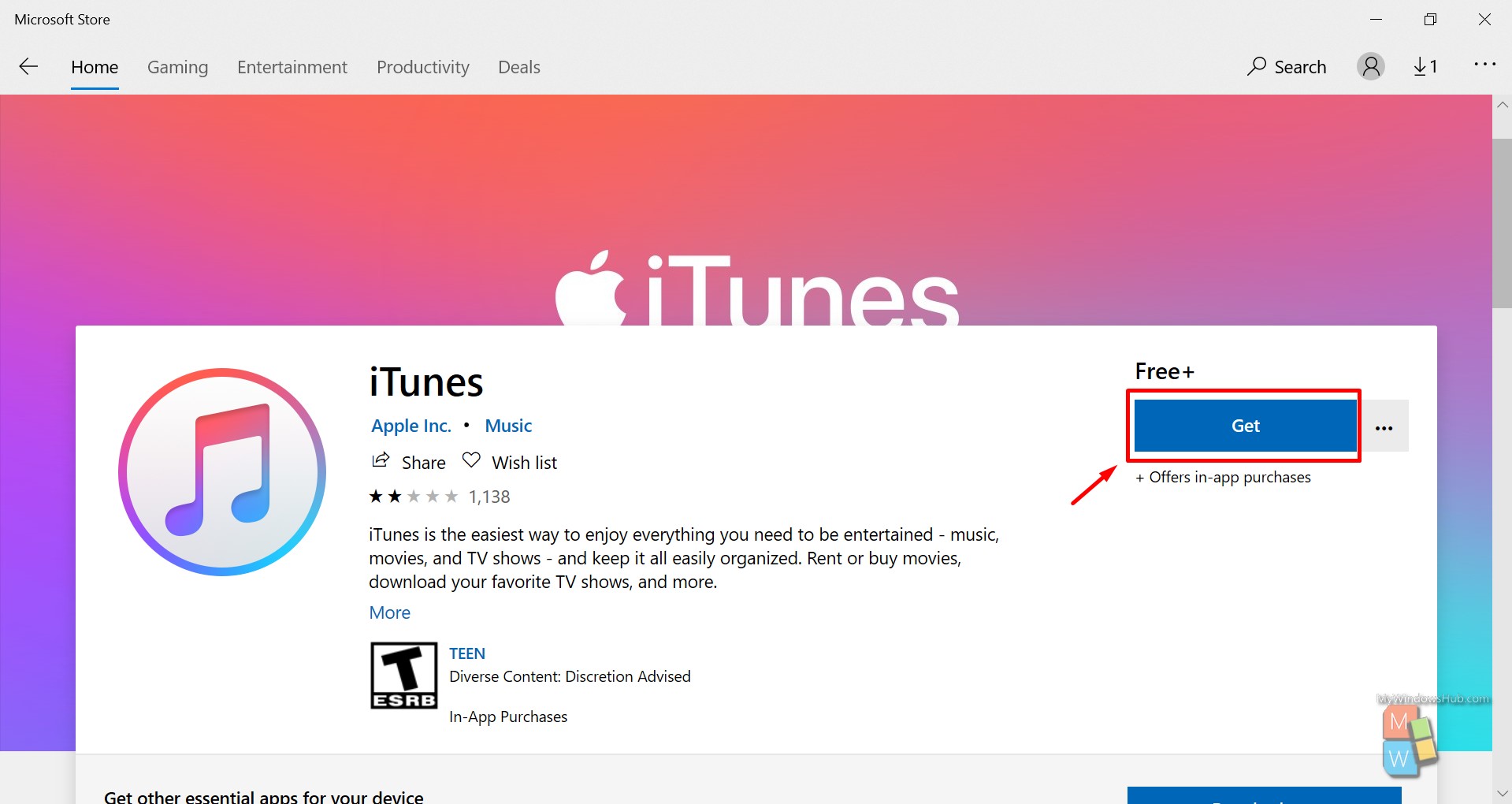 Once the installation is done, open the iTunes app from the Start menu.
Once another Apple device is on the same network, you shall be able to stream audio to the Windows system either from iPhone or iPad from Apple Music application.
Advanced Airplay Streaming
To stream any multimedia and mirror your compatible devices on your Windows-based machine, you need to download an extra tool along with some third-party plugins. Please note that sometimes you need to pay for a small amount as a pro user to access all the features provided by these streaming tools. Below are a few of the best Airplay supported tools available for Windows machine,
AirFoil for Windows
Tuneblade for Windows
Airplay Mirroring
Airplay allows you to display your Mac or iPhone screen on your HDTV using an Apple TV. The mirroring feature is available on Windows-based systems by using some third-party tools as mentioned below,
AirMyPc: Allows you to mirror your display to an Apple TV or Chromecast. With some extra add-ons, Windows allows you to use the mirrored screen as a virtual whiteboard.
AirParrot: Allows you to mirror your display to an Apple TV or Chromecast. Using this, you can mirror one program to the device while showing something else on your PC.
AirServer: This tool allows the educator to receive video over Airplay.
Features of AirFoil On Windows 10
AirFoil allows you to stream any media all around your network to Apple TV and AirPort Express.
You can even stream media to your iOS devices and other computers with just a few clicks.
You can play music on multiple outputs and listen to music freely on all the speakers simultaneously, which is indeed a remarkable feature.
The best feature is "AirFoil Satellite," a free companion for AirFoil that lets you receive audio and remotely control AirFoil on your machine.
Please note that AirFoil has been officially discontinued, and you cannot download it from the official website. You need to download it from third-party websites. This is the reason we shall be demonstrating you the other tool, "TuneBlade."
How to Install TuneBlade on Windows 10?
TuneBlade allows you to stream high-quality audio to AirPort Express, Apple TV, HiFi, and Airplay enabled speakers.
Visit the official website TuneBlade; you shall be able to see the below screenshot. In case this link doesn't work due to change in the domain name or anything else, please search for the "TuneBlade" keyword in Google and follow the official link.
You can check both the free and full version and proceed accordingly. In our case, we shall be heading ahead with the free version for demonstration purposes.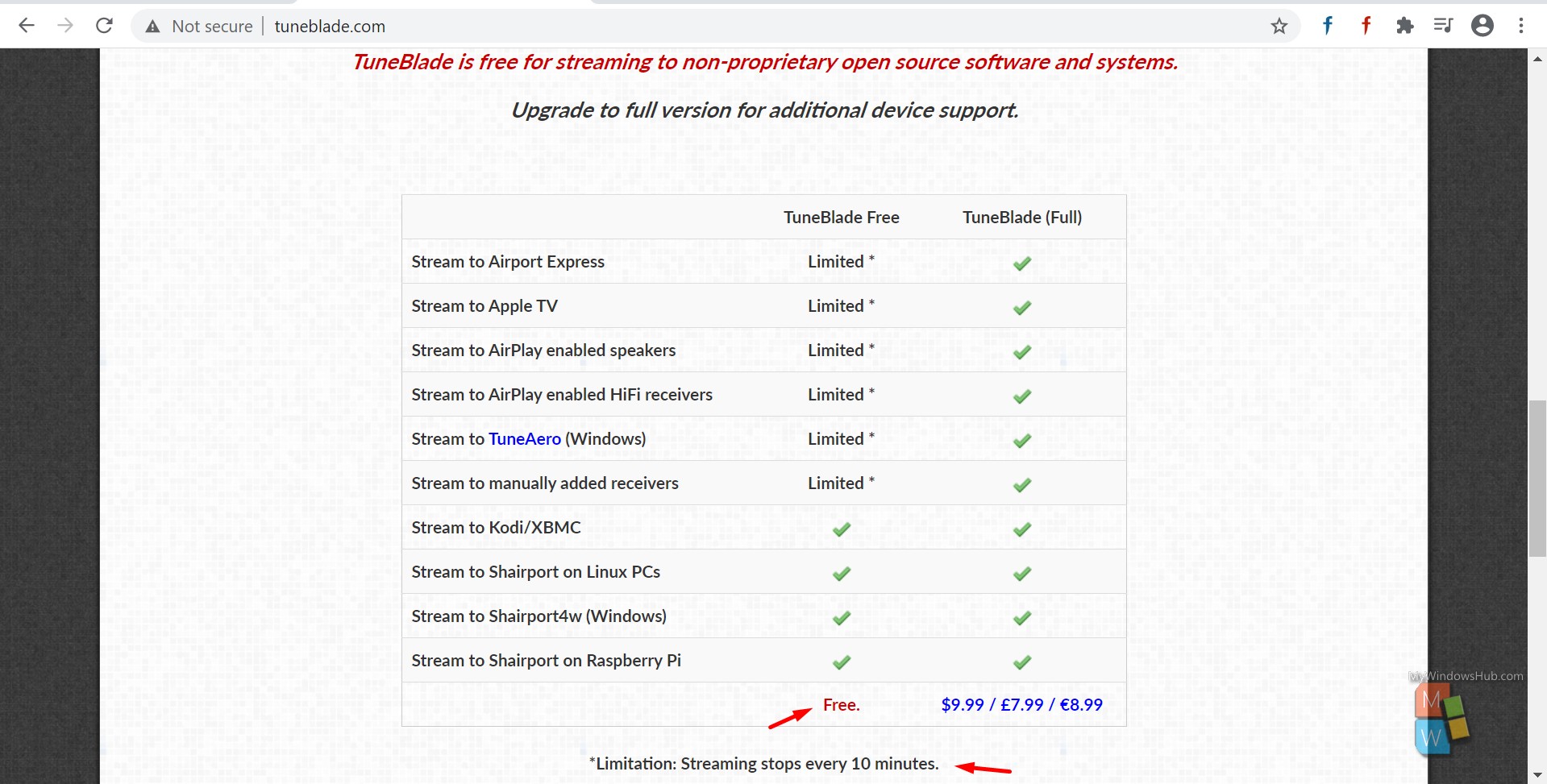 Please wait for a while to finish the download; once it is over, double click the installer to begin the installation.
Follow the instructions displayed on the screen to complete the installation.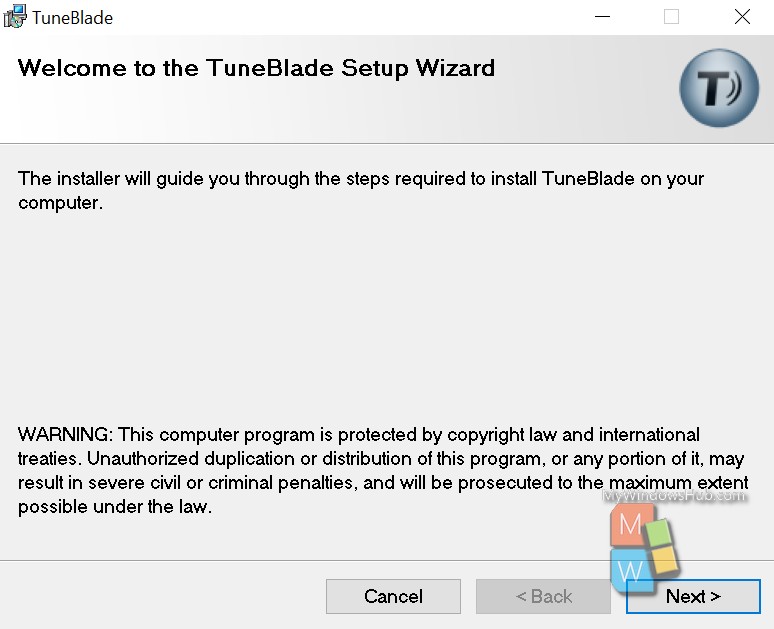 In case you have opted for the paid version, make sure to follow the instructions you have received via email.
Once the installation is done open the application, and you shall be able to see the below dialog looking for receivers,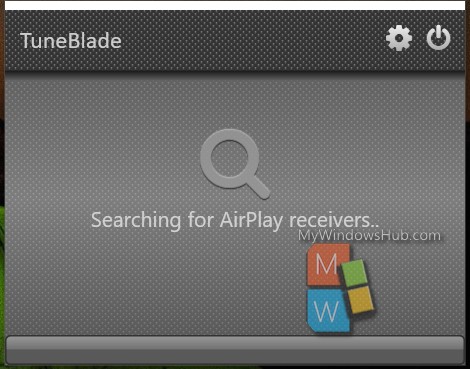 Once both the devices are in the same network, you shall be able to see the Airplay compatible device on the screen. Select the device from the list and follow the instructions shown on the screen to continue.
Latencies for Audio Streaming:
Below are the few experimental latency values that we have collected from various sources,
Apple TV on Ethernet: 5 milliseconds
InAir on Wireless: 100 milliseconds
Airport Express on Wireless: 150~350 milliseconds
Capture Audio from Audio Endpoint:
Earlier versions of TuneBlade can only capture audio from the default audio-endpoints. With newer versions, you can select audio-out and audio-in endpoints.
Conclusion
In this article, we had explained the working functionality and features of Airplay. We have shown you the steps to use the Apple Airplay on your Windows 10 system. There are many alternatives available on the market if the tool mentioned above won't work for you, make sure to try out other tools.