Cortana in Windows 10 is an advanced artificial intelligent assistant for users. Cortana can perform a plethora of functions like settings reminders for meetings, birthdays, flights, providing notifications for mails and calls. Cortana can listen to your voice commands and act accordingly. Cortana is so efficient that it can even book flights and remind you about your flight schedules. It keep tracks of your web search history to enhance your search and browsing experience. If you phone is set with your Windows 10 device, it can also give you missed call alerts.
Users can allow their Windows 10 device to keep track of the calls incoming to your phone. If you have missed you call, then Cortana notifies you about your missed calls.the feature is extremely helpful as it prevents you from missing out any call. But if the computer you are using is used by other family members of yours and you don;t want to get missed call alerts on your Windows 10 device, then turn off the feature from Cortana. If you want, you can turn it back on any time.
The following tutorial will help you turn off missed call notifications in Windows 10.
Steps to Turn On/Off Missed call notifications in Windows 10 Cortana
1. Open Cortana. In the left panel, you will find the Notebook icon, as shown in the screenshot.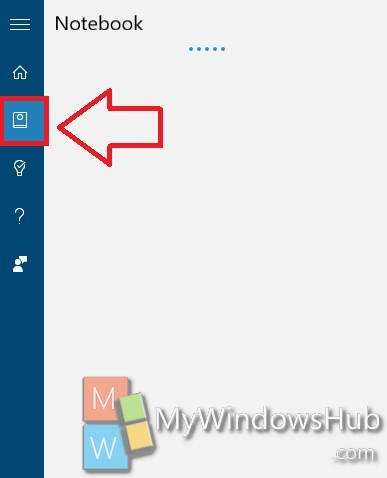 2. The menu opens. Click on Settings.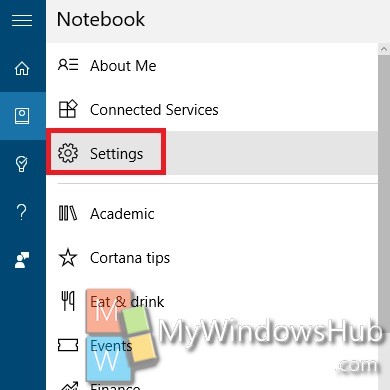 3. Now scroll down and find out an option called Missed call notifications. This feature is turned on by default. If you want to turn it off, tap on the slider from right to left to turn the call notifications.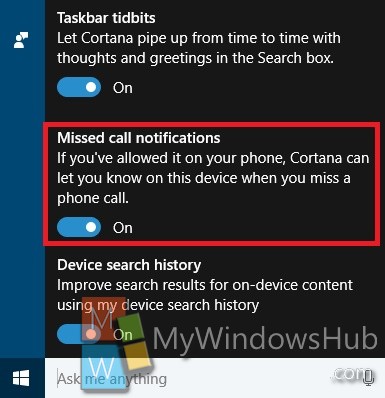 4. If you want to turn it on again, simply move the slider from left to right.
That's all and you are done.