The following tutorial will help users to toggle control over insider Builds in Windows 10. This policy setting determines whether users can access the Insider build controls in the Advanced Options for Windows Update. These controls are located under "Get Insider builds," and enable users to make their devices available for downloading and installing Windows preview software.If you enable or do not configure this policy setting, users can download and install Windows preview software on their devices. If you disable this policy setting, the item "Get Insider builds" will be unavailable.
This setting is only applicable to those devices running the Pro, Enterprise, Education or Server editions of Windows 10.
Steps to toggle user control over insider Builds in Windows 10
1. Press Win+R to open Run window.
2. Type gpedit.msc and hit Enter to open the Local Group policy Editor.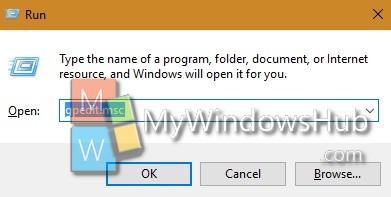 3. Now go to the following location Computer Configuration > Administrative Templates > Windows Components> Data Collection and preview Builds.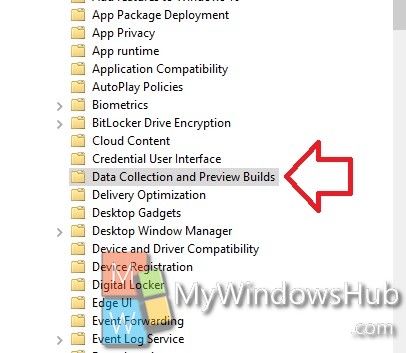 4. In the right panel, you will find the policy setting Toggle user control over Insider Builds. Double tap on it to edit the policy.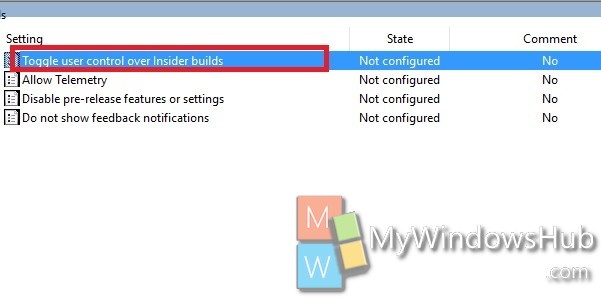 5. If you want to enable user control over insider builds, then tap Enable. Go to Step 7.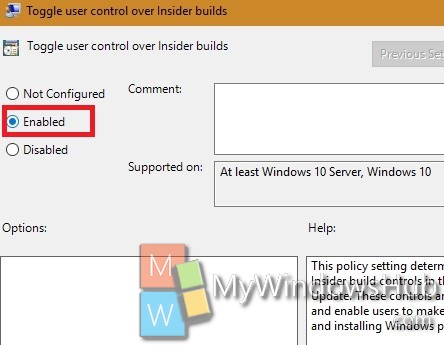 6. If you want to disable the option, click on Disable. The Get preview Builds will be vanished once you disable the feature.
7. Click OK and then Apply.
8. Close Local Group Policy Editor.