Screenshots are of good utility but one issue almost every user face is the screenshot operations. Different devices have different methods of taking screenshots. The process varies with versions of operating system as well. The following tutorial describes 6 methods by which you can take screenshots with Surface 3.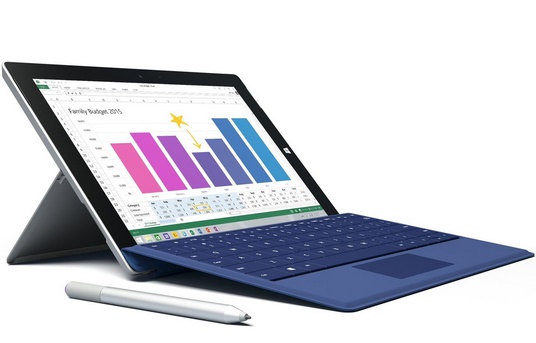 Method 1
The first method i.e. the most simple and most commonly used method is pressing Windows button + Volume down button. The screenshot is successfully captured when the screen light dims for a second. The images taken by this method are saved in Pictures Gallery.
Method 2
The next method is done by pressing the Windows Button by using the Surface 3 Type cover and simultaneously tap the PrtScn button. Images taken by this method are saved in the Screenshots folder.
Method 3
Using the Surface 3 type cover, press the PrtScn button. Now unlike the previous 2 methods where the screenshots are saved instantly, the screen content is copied to clipboard. Open a photo editor or painting tool like Paint and paste it. This method is similar to the one we use in our Windows Desktops.
Method 4
Press Alt+ Prtscn and paste it in another paint editing tool. This process does not dim the screen which means screenshots are not auto generated.
Method 5
You can also use the Surface pen to take screenshots. Double click on the top button of the Surface Pen. Now you will find a dragging tool which will prompt you to select the area you want to capture. Once you do this, the activity will be opened in the OneNote. Then you can edit them or add new features further.
Method 6
Surface 3 comes with a new built-in apps called Snipping tool. Open it, go to New and then select Snip window or the type you want . The screenshot will be created and you can save it.