You have brought a heap of DVDs from the store. But your DVD player has been broken down and you can't even remember when it worked last time. Worse than that, almost all commercial DVDs are DRM protected so they cannot be read by the disc drive of a common computer. If this is the case, you are definitely right being here. To play DVD movies on your Windows 10, you are required to remove DRM from the disc first and then rip DVD movies to MP4, AVI, MOV and more common formats.
DRM refers to digital right management, a kind of access control method to limit illegal usage, modification, and distribution of digital content and restrict the use of proprietary hardware and copyrighted works. Nowadays, this policy is used for protecting purchased media content like Apple Music and many commercial DVDs. DVD encrypted with DRM cannot be read from a disc drive without decryption feature.
On the Internet, you can find lots of ripper programs that can remove DRM. Today, we handpick one and introduce to you. That is TuneFab DVD Ripper.
Essential Features of TuneFab DVD Ripper
#1. Clean UI.
To users, describing a UI as intuitive is among the highest praise they can bestow. TuneFab DVD Ripper has such an interface with obvious clues that indicate what it is going to do. The intuitive interface of TuneFab DVD Ripper provides direct access to major features of the software, and some additional advanced settings are hidden away in the menu by default. You can directly navigate to its major function modules, file ripping, file clipping, 3D conversion, and file editing. To configure settings like ripping speed, you need to go to the menu section.
#2. Rip DVD Movies Without Quality Loss.
You may wonder why TuneFab DVD is better than any other programs. Seemingly, there are tons of products which are akin to TuneFab DVD Ripper. TuneFab DVD Ripper, however, is written by advanced algorithm, leading it to behave well when ripping media contents. When working, the program can copy the raw file without modifying it. Then convert the duplication to pre-selected output format.
#3. High Success Rate.
The program seldom fails to complete the ripping task. It never crashes when working. Since the program is available, users have never complained about any failed ripping case. High stability and successful ripping rate identify TuneFab DVD Ripper as one of the best ripping tools.
#4. Supports 300+ Output Formats.
TuneFab DVD Ripper is highly rated not merely because it can rip DVD movies, but it supports 300+ output formats. Presently, this ripper convert files to almost all commonly-used formats, MP4, AVI, MOV, WMV, MKV, MP3 for example.
#5. Supports DRM Decryption.
TuneFab DVD Ripper is feature-rich ripper. It is not only a file ripper, but also a DRM removal tool. Target users of TuneFab DVD Ripper are those who want to legally remove DRM policy, but do not want to go through complicated steps. It is able to decrypt DRM protection from the DVD movie through simple steps.
#6. No Malicious Software.
TuneFab DVD Ripper is clean. We promise that when you download TuneFab DVD Ripper, no malicious software, virus or disturbing add-on is bundled.
Steps to Rip DVD Movies with TuneFab DVD Ripper on Windows 10
Step 1. Download and Install TuneFab DVD Ripper
To decrypt DRM from DVD movies, you need to download and install TuneFab DVD Ripper in your computer first. You can click the download button below to get the installation package. When installation is finished, prepare the DVD movies before ripping. When preparation jobs are done, go through the removal steps below.
Step 2. Launch TuneFab DVD Ripper in PC/Mac
Fire up TuneFab DVD Ripper in your PC/Mac. When the program is open, you will have the register page. Please enter your email address that you used to purchase the software and the registration code. Then click the "Register" button to register.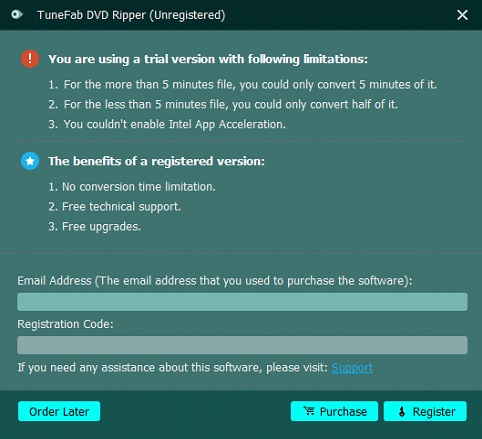 The registered version has no conversion time limitation. And you can enjoy free lifetime technical support and free upgrades with the full version.
Step 3. Load DVD Movies to TuneFab DVD Ripper
Put the DVD disc into your computer. Then go back to TuneFab DVD Ripper and click the "Load Disc" button to import DVD movie. If you want to remove DRM of several DVD movies at a time, you can click "Load DVD Folder" to load the whole DVD folder containing movies you want to rip. Also, the program allows you to import IFO files.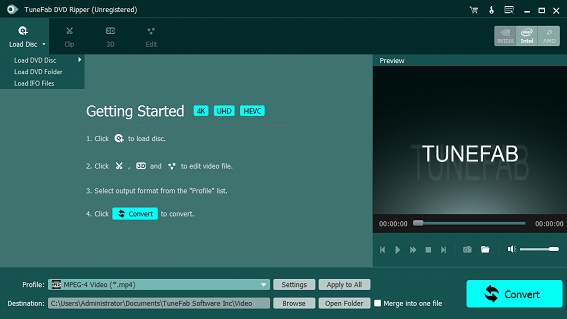 Step 4. Define Output Settings for Ripped DVD Movies
Once DVD disc is imported, you can select output folder and output video format for converting DVD movies. To configure output settings, you can click the "Settings" button at the bottom section of the main page.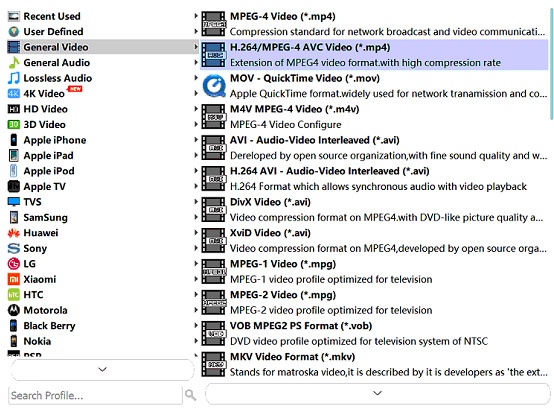 Step 5. Remove DRM from DVD
Click the "Convert" button after defining settings. Then DRM policy is removed from DVD movies and the video will be ripped into the format selected just now. Ripping can take some time, depending on the movie size. Before finishing, do not close the ripper program. Once conversion is done, you can go to the output path and find the DVD movie without DRM protection.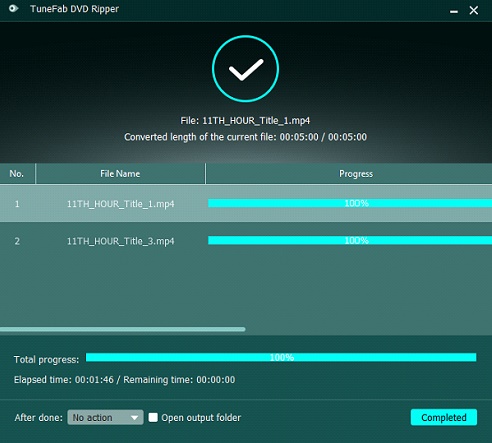 After DRM removal, you can play the DVD movie directly on your computer. Additionally, the movie without DRM protection can be transferred to iPhone 8/7s/7s Plus, iPad Pro, etc. And played on these portable devices. Give it a try. TuneFab DVD Ripper will live up to your expectation.