Losing an unsaved file forever is one of the deadliest dangers of our life. While we are working in Microsoft Word document, it often happens that we close it like a reflex action without even saving it. It also happens that the Ms Word stops responding and you have to force close it without saving it. So all these dreadful things have happened to us once or more. Restoring the unsaved document may not be known to everyone. Thus we have grown a habit of saving the document after typing every single line. In a jiffy, saving a document with a quick Ctrl+S has become a good habit and we end up saving everything, almost everything including the Web browsers we are reading.
The following few steps will help you recover any unsaved Microsoft Word document.
1. When you have mistakenly closed a word file without saving it, open a blank word file. Go to File and then Info.
2. You will find a large square with a drop-down menu next to Versions that reads Manage Versions.
3. Now open the drop-down list and select 'Recover unsaved documents'.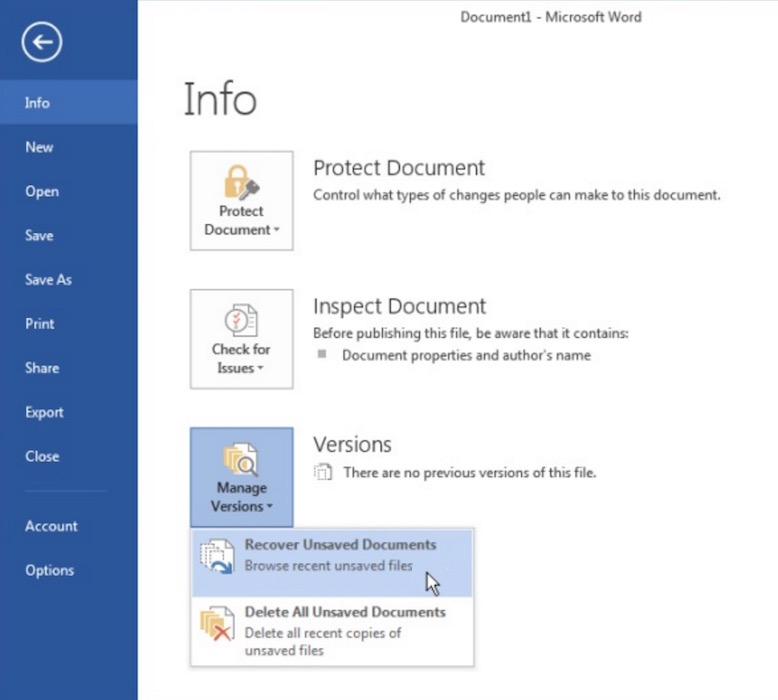 4. Now Word will display a list of all the unsaved documents but remember it can recover only upto 5 days. So even if 5 days is a legit deadline but you have to recover your data within these 5 days because once these 5 days pass away, you unsaved data will be discarded permanently.