Windows 10 will introduce a new web browser known as the Microsoft Edge. As Microsoft claims, Microsoft Edge will bring a new revolution among web browsers. With fast speed, plenty of new and unique utility features. One of the many useful features is the ability to import Favorites from other browsers to Microsoft Edge. This means that you can integrate favorites from Internet Explorer, Chrome, Firefox into Microsoft Edge. The following steps will help you to enable Favorites bar and import favorites in Microsoft Edge.
How to Enable The Favorites Bar & Import Favorites in Microsoft Edge
1. First launch Microsoft Edge and then tap on Settings as shown in the screenshot. If you want to enable the Favorites bar, then tap on the slider below Show the Favorites bar to turn it on. If you want to turn it off, then tap it again to move the bullet from right to left.

2. Microsoft also allows you to integrate all favorites set by you in other browsers. Select Import favorites from another browser.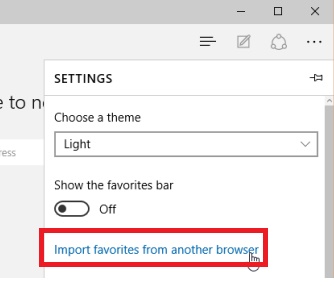 3. Now tap your browsers of preferences and tap Import. Now you have successfully imported favorites from other browsers to Microsoft Edge.