BitLocker is an encryption method that enables users to lock the different drives in Windows. The drives which are protected by BitLocker are accessed by passwords. Windows has provided opportunity for users to choose and configure the cipher strength and algorithm used by BitLocker Drive Encryption. This can be achieved via the Local Group Policy editor. The Local Policy Editor will let you configure and select the cipher method for BitLocker encryption. By default it is not configured but you can choose your choiceable encryption method by enabling the Policy Setting. If the drive is already encrypted or if encryption is in progress, the encyption method will have no effect. If you leave the policy unconfigured, then BitLocker will use the default encryption method of AES 128-bit with Diffuser or the encryption method specified by the setup script.
Steps to Choose BitLocker Drive Encryption Method and Cipher Strength in Windows 10
1. Press Windows_R to open Run Window. Type gpedit.msc to open Local Group Policy Editor.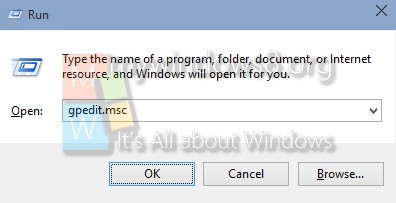 2. Now navigate to the following location Computer Configuration-> Administrative Templates-> Windows Components-> BitLocker Drive Encryption.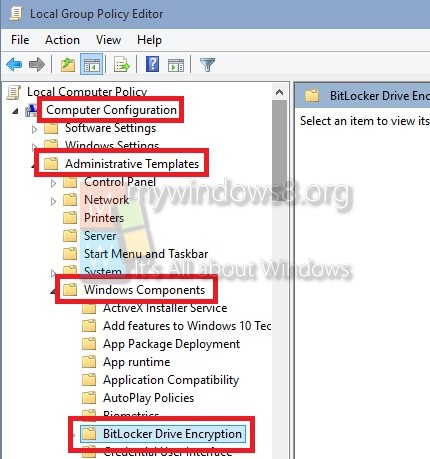 3. In the right pane, under Setting choose Choose Drive Encryption Method and Cipher Strength.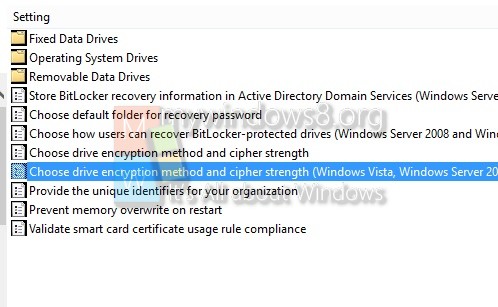 4. By default, it is Not Configured. If you want to change the setting, then double click on it. Now select Enable or Disable according to your requirement. If you select Enable, then follow step 5. Otherwise, select Apply and then OK.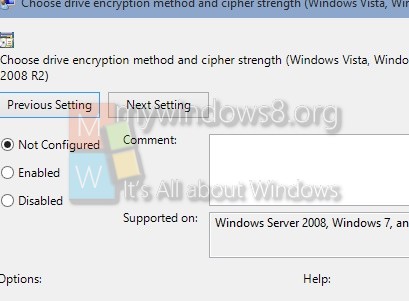 5. Now, select any one of the encryption method. Click Apply and then OK.