Changing drive letter is not so much difficult job. This article will show you how to change drive letter in Windows 8.
What is Drive Letter?
Every operating system has certain convention of naming various physical and logical disk partitions. Drive letter assignment is one of them which are used by the Microsoft Operating System. Drive letter assignment is the process of assigning letters from English alphabet to various Disk Partitions.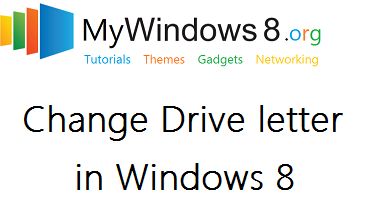 There are some typical rules which although is not strict, but a little idea is thrown on them.

A: For floppy Drives nowadays completely obsolete.

B: Also for Floppy and obsolete. So it can be used for other purposes.

C: First and most important hard disk partition where your operating system files and all program files are located.

D-Z: These are names assigned for other partitions, removal disk names and others.
Steps to change Drive Letter in Windows 8 :
1. Press Windows key + W to Search your system settings and type "Disk Management" in search box. Select Create and format hard disk partitions from the left pane.

2. Select and Right click on the desired drive and choose on Change drive letter and paths.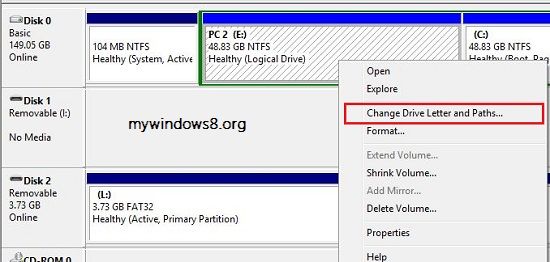 3. A new window will pop. Click on the Change to change the drive letter.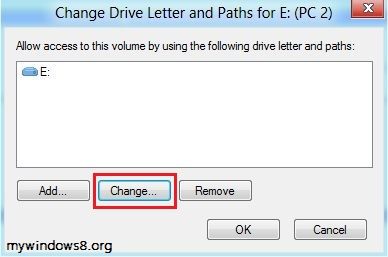 4. Choose any letter of your choice from the available options -> click Ok. You will get a confirmation or warning dialog box. Click "yes" to confirm.
It's done. See the changed effect.