Sometimes Microsoft releases Windows 10 Updates which are full of bugs. There are certain Builds which when comes, Windows restarts automatically and updates to the new Build. The only way to stop the update is defer installing the Update. In general, Windows Builds ask for your permission before restarting or shutting down so that you can have the time to save your work. But if the Builds are buggy, then the update may not ask for your permission before restarting. This happens mostly in case of Builds in the Fast Ring.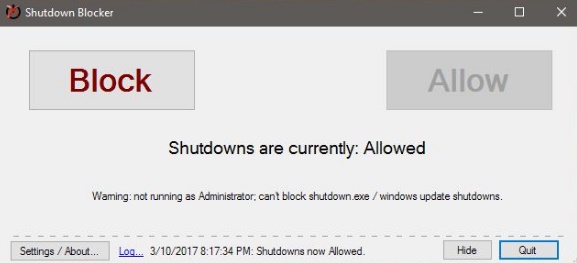 If the work is unsaved, and the computer undergoes automatic shutdown and restart, then the work gets lost. To get rid of this menace there is a third party application for your rescue. ShutdownBlocker is free app that can block 'shut down' and 'restart' processes on Windows. Irrespective of whether the shut down or restart is initiated by Windows or an app, ShutdownBlocker will block it.
Steps to Block Shutdown and Restart in Windows 10
1. ShutdownBlocker is a portable application that does not requires to be installed. All you need to do is download the app, and extract the zipped folder.
2. Run the.exe file inside it. The app will then automatically block shutdown process. When the app blocks the shutdown process, the block button us greyed out.
3. You can minimize the application to the system tray after you block shut down and restart. The app runs in the background and refrains Windows from shutting down. It will also block if any user attempts to shutdown.
4. Now if you want to unblock it, open the app and click on the 'Allow' button in order to unblock shut down. Once he Unblock option is enabled, the 'Allow' button will be greyed out. To block shut down again, simply click the 'Block' button.
ShutdownBlocker can block most of the shutdown or restart operations but not all. There are some permissions granted by developers that allows the shutdown process.