To provide strong security, Windows 8 has provided you more strict access to permissions of files and folders. When you download files and folders, you are often unaware of the source of such files and do not hesitate to download them. But such files may contain hidden malicious scripts and malwares. These malwares attacks your machine and tries to get access of the root system or admin and exploit the Operating System thus leading to system crash and destruction of all machine vulnerabilities. So your machine must have the ability to restrict root access from the unauthorized sources. The Windows 8 provides this by robust security settings and makes it difficult for suspicious scripts to destroy your computer. File permissions is such a set of rules that deals with prevention of the machine from viruses and takes control over system files. This granting of permissions can be changed by only administrator.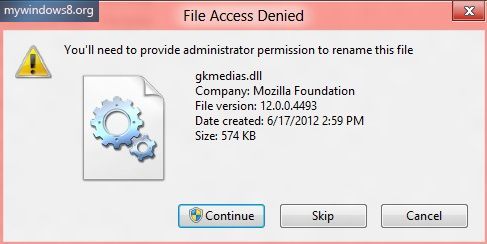 Generally administrators are not allowed to change these settings. They can only execute such files, but by tweaking the Advanced Security essential, settings can be changed. When you want to change, rename or edit any system files, it will deny file excess and you have to change the property. But if you're granted such permissions you can change the files easily by signing in as administrator. To see whether you're granted permissions to write, select the file, right click and go to Properties. Then Go to Security tab, select Administrator and see if there is a tick mark beside Write option. If it's there it means you can change the system file without any trouble. But if not, you have to do it manually.
This tutorial will help you in changing permissions and ownership through the steps below.
Steps to grant permissions in windows 8
1. Select the system file, for which you want to grant permission, right-click on it and click on Properties.
2. Now in Security tab, select Administrator, and see if there is the tick mark beside Write.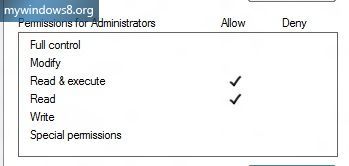 3. If no tick is there beside Write, click on Advanced.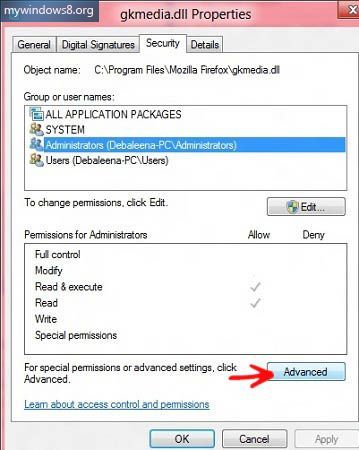 4. Now, "Advanced Security Settings" opens. See that the owner is something other than Administrator. Here it is SYSTEM. Click on Change beside Owner.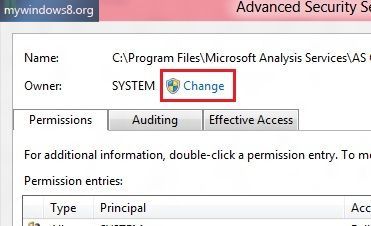 5. "Select user or Group" Window opens and then click Advanced.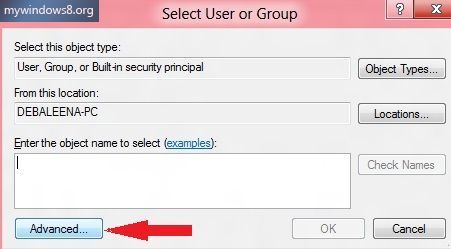 6. In the new Window, click Find Now.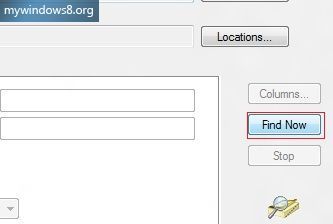 7. Select Administrators from the Search results and click "OK". Click "OK" again to confirm.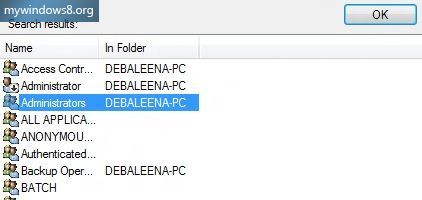 8. Click "Apply" and "Ok". You're done.
9. Now you go to Security tab of "Properties", you'll find Write option allowed.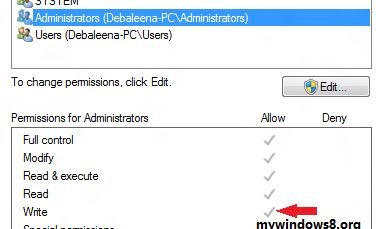 Access permission can be granted using Elevated Command Prompt also.