This article will show you how to get the Windows 7 old task manager back in Windows 8.
In Windows 8 Microsoft introduced Metro User Interface (now known as Modern or Windows 8 interface), which definitely has many differences with its predecessors ( Windows 7, Vista, XP) and most of these new features are no doubt much better. Windows 8 comes with a new Task Manager.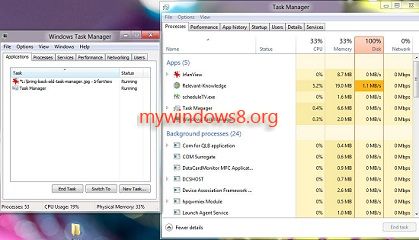 In this new Task Manager, App History, Start Upand Details Tabs are added while Applications and Windows Tabs have been removed. These two Task Managers have their differences, and both have advantages in their place. Like, Windows 7 old Task Manager is much easier to manage for general users. So, if you want to Get back old Task Manager (Windows 7 style), then follow the instructions below.
Steps to Get back old Task Manager (Windows 7)
1. First of all download This Attachment and unrar it. There are two folders in that .rar file.
2. If you are using 32-bit operating system then select x86 folder or if you are using 64-bit Operating System then select x64 folder and move the folder to C:\ drive or any other location.
3. Now, open the folder and right-click on tm.exe file and select Send to -> Desktop to create a shotcut for it.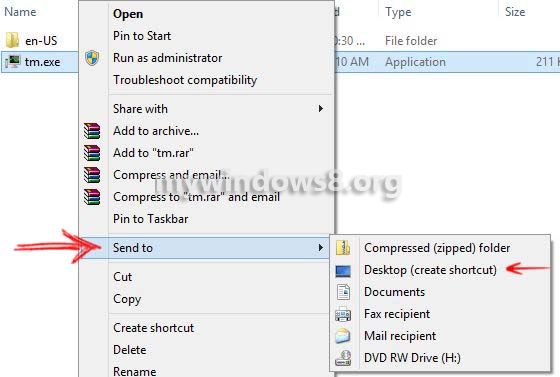 Now, you can see the Old Task Manager shortcut icon in your Desktop. Double-click on it to launch old (Windows 7) style Task Manager.