Flipboard has won many hearts by its colorful interface and organized book like appearance, being the favorite online magazine to millions of users. Flipboard lets users to select favorite topics of interest and nurture those interests every day with interesting news and updates.
Flipboard has been launched with iOS and later with Android and Windows Phone. This time Flipboard has been launched for Windows 8.1 also and this has been raised from the scratch so that the users do not suffer any software breakdown and can enjoy a seamless experience.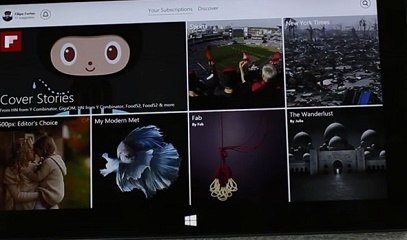 Flipboard unfolds with it colorful and interesting news on any topic and once you sync it with Facebook or Twitter, it will be easier to understand your choice and browse the sections accordingly. The beautiful way of flipping pages and turning them is so exotic and it covers topics ranging from Fashion to Health, Sports to cars, movies to Socialites lifestyle and so on. So Windows 8.1 devices will let you have this wonderful experience. Flipboard for Windows 8.1 has been crafted with utmost care and comes with Live Tiles. So we can imagine how elegant will it appear in a stylish Surface 2 tablet or a Lumia. The app will be soon available in the Windows Store. The features include Refresh, Edit, Flip It, split screen support, windows resizing ability.