This post has been sponsored by GoodOffer24.com
Microsoft is the largest global software manufacturer and publisher, and their products are highly appreciated by most customers. Since the emergence of Windows Series, their products have been dominating the market. As promised, the Windows 10 April 2018 Update has been released last month, and it was specially designed to help users make the most of their time. With this Update, available as a free download for anyone who has a legitimate Windows 10 License Key, Users get new experiences that help minimize distractions and make the most out of every moment by saving their precious time.
In 2017 alone, Windows OS held around 88.51% shares of PC OS Global Market. While it may have dropped a little when compared to before, there is still a huge demand for Microsoft Software in the World. Even though there are some negative reviews for Windows 10 Pro, it still can be praised as the most advanced Windows OS.
Currently the price of a Windows 10 Pro License, in the Official Microsoft Store, is 199.99 USD; however, you can find Windows 10 Pro Keys as low as 5 USD in a lot of unofficial Purchasing Channels, including Ebay. There's a reason to believe these low prices would appeal to every viewer's attention, but no one can assure you these license keys will work normally. So if you can find a trustworthy seller, choosing to purchase a key from them would be your best choice to experience Windows 10 Pro.
GoodOffer24 is a brand new Online Store specialized in Software License Key sales. Behind GoodOffer24, there's a team who has been engaged in the field of Game Codes and Xbox Live Cards sales over 10 years. GoodOffer24's latest Summer Sale has gone Online, and you can now use the following coupon code: to get an Additional 15% Discount. Besides Windows 10 Pro, Office 2016 Pro and also the Bundle Package for Windows 10 Pro + Office 2016 Pro really are worthy to have a look at.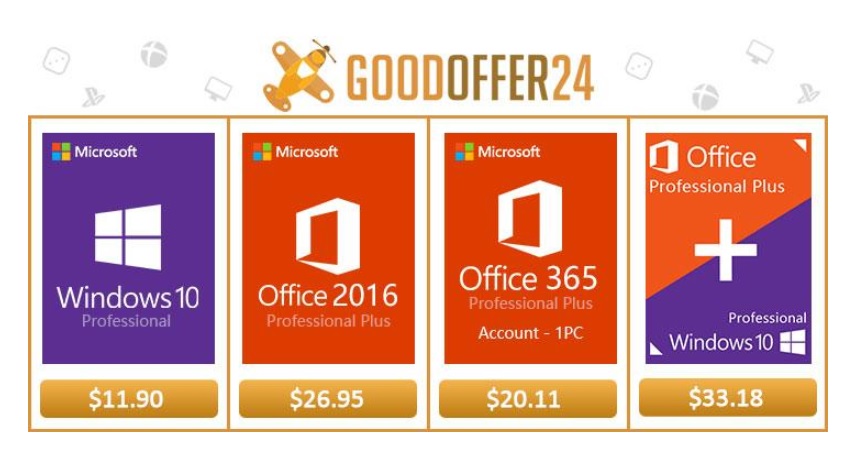 With the discount-code: mywinhub15 an extra discount in the amount of 15% for category Software Products, the final discounted price as follows:
Fast delivery and best service
At Goodoffer24.com you can expect the best service. Shortly after purchasing, you will receive the items quite easily and quickly by e-mail, and there are NO SHIPPING COSTS! So you do not have to wait for days for the package. And if it comes to problems or you just have a question, the customer service will be there to help you right away.
Order process – How to order from Goodoffer24.comm
Shopping at Goodoffer24.com is as easy as it gets. Here is a brief explanation of how to buy Microsoft Windows 10 Professional Key using the mywinhub15 discount code. Just click on the "Add to cart" button in the product description of the item.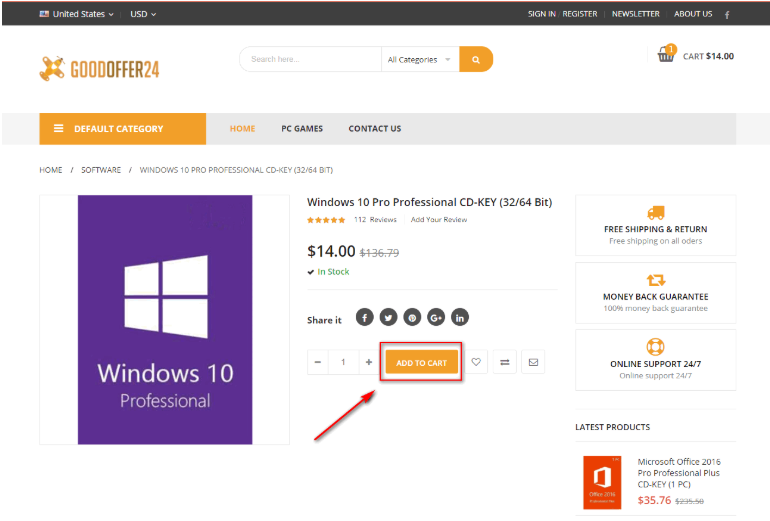 With the button "Add to cart" you can add a product into your cart
In the shopping cart, simply click on "Apply coupon code" and enter the discount code mywinhub15 there. If you then click Apply Discount, the discount will be deducted from the order value.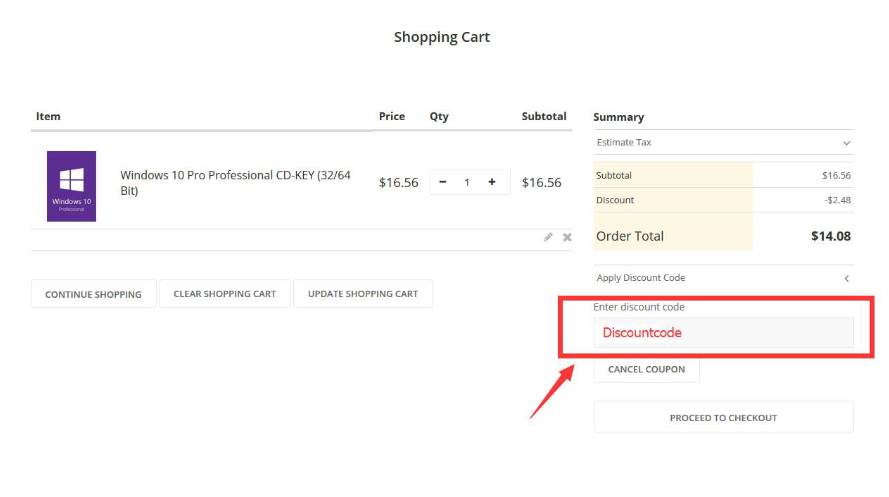 Simply enter the discount code in the shopping cart to save more!
If you click on the "Proceed To Checkout" button, you only have to select the desired payment method, enter your data and confirm your order. After the payment, you will then receive the ordered product within a very short time by e-mail – fast and uncomplicated!
Now test how fast and easy the order at Goodoffer24.com goes by the hand. Only a short time left and you can still use the exclusive coupon codes to grasp the offer. The opportunity is favorable!
Please contact our  24/7 customer service: info@goodoffer24.com if you meet problems with your purchase. We will help with your order right away.