This article will help you to disable Lock Screen or Windows 8 Log on Screen.
Windows 8 lock screen acts like a dashboard. After you start your machine you can see Windows 8 Log On Screen or Lock Screen. You can even open this Lock Screen by pressing Windows Key + L . Windows 8 Lock Screen shows date, time and notifications for new email, Calendar reminder, IMs, and so on.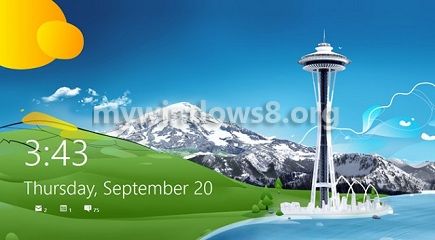 In Windows 8 tablets and phones the lock scree also shows missed call and inbox message alerts. So, it has good importance in those devices. But in a Windows 8 PC, there is not much importance or use of this lock screen. No doubt, it is very fancy and you only need to press a key or mouse click to slide it away, but you may want to avoid this extra step and want to immediately type your password to log in. In that case you may disable this Lock Screen in your Windows 8 PC. I will not recommend to disable this feature in Windows 8 phones and tablets.
1. Press Windows Key + R and type gpedit.msc in Run dialog box. Press Enter.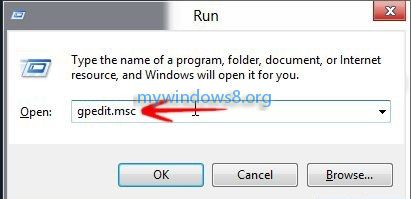 2. Dig down to this location:
Computer Configuration -> Administrative Templates -> Control Panel -> Personalization
In the right-pane double-click on Do not Display the Lock Screen entry.

3. Set radio button to Enable and click OK.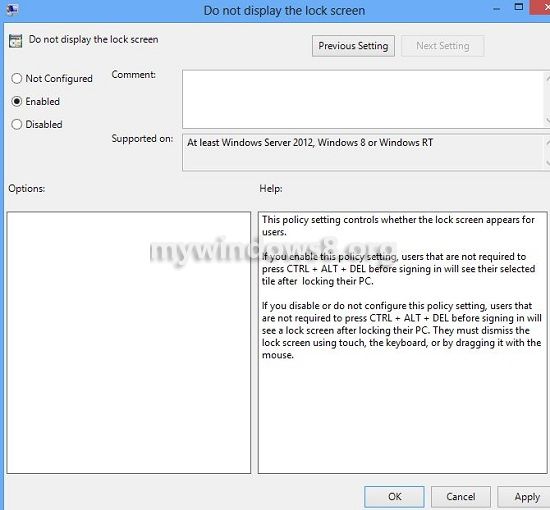 That's it. You have successfully disabled Windows 8 Lock Screen. You can re-enable this Lock Screen by setting the button to Disabled.